Traveling with a service dog on American Airlines requires some preparation and understanding of their policies. This blog post will provide comprehensive instructions to ensure that you and your service animal have a successful journey with American Airlines.
We'll discuss how to get approval for your service dog on American Airlines flights, including completing necessary forms such as the Service Animal Air Transportation Form and Service Animal Relief Attestation Form. We also delve into size restrictions for service dogs, weather conditions affecting pet travel, in-flight behavior expectations for service animals, changes to emotional support animals policies, prohibited breeds and sedated pets onboard.
In addition to this comprehensive coverage of American Airlines' policy regarding traveling with a service dog, we'll explore coordinating policies between different carriers like Alaska Airlines under the Air Carrier Access Act. Lastly, we shed light on American Airlines' commitment towards accessibility for all passengers.
American Airlines Service Dog Policy
Traveling with your service dog on American Airlines can be a smooth process if you're aware of their policies and procedures. The carrier allows service canines to be brought aboard for no additional fee, yet there are specific rules that must be followed.
The Process to Get Approval for Your Service Dog on American Airlines
To begin with, pet owners need to complete two forms: the Service Animal Air Transportation Form and an Animal Relief Attestation Sanitation Form. These documents verify that your animal is indeed a trained service dog and will behave appropriately during flight.
How to Complete and Submit Necessary Forms
You'll need to provide information about your disability, as well as details about your pet's training, behavior, health status, and vaccination records. Once these forms have been submitted and approved by airline agents – which may take up to 48 hours – you'll receive a SVAN ID valid for one year.
This policy ensures that all passengers have a comfortable journey while also complying with the Air Carrier Access Act mandates, which aim to make air travel accessible for people of different abilities.
Size Restrictions for Service Dogs on Flights
When planning to travel with your service dog on American Airlines, make sure it fits comfortably at your feet or under the seat in front of you during flight time. The airline requires that your service animal should fit comfortably at your feet or under the seat in front of you during flight time.
Determining if Your Pet Fits Comfortably In-Flight
To ensure a smooth journey, measure the height and length of your pet while they are standing in a natural position. Also, check out American Airline's cabin dimensions for different aircrafts available on their official website before booking.
Options If Your Pet Doesn't Fit
If you find that your service dog is too large to fit under the seat or at your feet without blocking aisles, there are other options available. You may need to rebook onto a flight with more space or possibly check them into cargo hold depending upon their size and weight. However, remember this might not be suitable for all pets due to varying temperature conditions and noise levels in cargo holds.
Pro tip: Don't try to sneak your Great Dane onto the plane claiming it's a service dog. It won't fly.
Please note: While these guidelines provide an overview of American Airlines' policy regarding traveling with service dogs, always consult directly with airlines about specific requirements related to breed restrictions and health certificates needed prior departure.
Weather Conditions Affecting Pet Travel
When traveling with a service dog on American Airlines, one must take into account the weather conditions as temperatures exceeding 85°F are not permitted for pet travel. According to American Airlines' pet policy, pets are not allowed to fly when temperatures exceed 85°F as per forecasts. This is a safety measure designed to protect animals from potential heat-related issues during transit.
Understanding Weather Restrictions for Flying With Pets
The temperature restriction applies both at the origin and destination airports. It's recommended that you check the forecasted temperatures of both locations before booking your flight. If high temperatures are expected, consider rescheduling or making alternative arrangements for your pet.
Pregnancy Guidelines for Pets Aboard Flights
In addition, pregnant pets past their 45th day of gestation are also prohibited from flying due to safety concerns raised over the years. This rule aims to prevent any health risks associated with air travel in late-stage pregnancy.
Besides these restrictions, other factors may affect pet travel, such as aircraft type or airport facilities available at specific destinations. Therefore, always consult with airline representatives about all necessary precautions and guidelines while planning a trip with your service animal onboard.
In-Flight Behavior Expectations for Service Animals
As a responsible pet owner flying with American Airlines, it's crucial to understand the behavior expectations for your service dog. These guidelines ensure a safe and comfortable journey for all passengers.
Leashing Rules Onboard Flights
Your service animal must be leashed or harnessed throughout the entire journey. This keeps your pet secure during any turbulence and ensures the safety of other passengers. Check out the leash laws in different states for more information.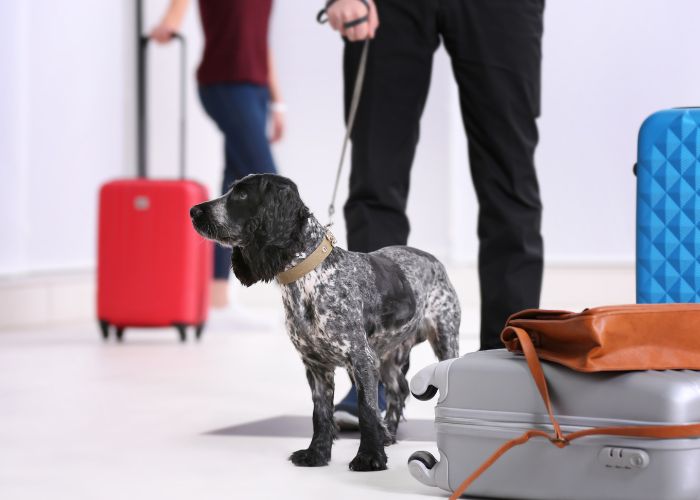 Behavioral Expectations of Service Animals Inside Airports
Airport terminals can be stressful environments, so it's essential that your service animal behaves appropriately at all times. They should remain calm amidst crowds and noise, avoid barking unless part of their trained task work, never block aisles or occupy seats, and never show aggression towards people or other animals. The American Kennel Club offers some useful tips on training dogs to behave well in public places.
Failure to follow these guidelines may result in your pet being asked to leave the plane or airport. Keeping everyone safe is our shared responsibility.
Changes To Emotional Support Animals Policies
American Airlines has made some big changes to their policies regarding emotional support animals (ESAs) and psychiatric service dogs (PSDs). The new rules now classify ESAs separately from PSDs, which affects how these animals are handled during air travel.
What's the difference between ESAs and PSDs according to AA policy?
Previously, airlines treated both ESAs and PSDs similarly. A clear divergence is now in place between the two sorts of service animals. Customers traveling with PSDs won't incur any fees for their animal's flight, similar to other types of service animals allowed on board American Airlines flights.
However, it's important to note that this new classification requires proper documentation before flying with your furry friend. This includes completing forms such as the Service Animal Air Transportation Form and an Animal Relief Attestation Sanitation Form.
The goal of these changes is to promote safety and comfort for all passengers on board, while still providing essential aid for those who require it. So whether you're traveling with a trained guide dog or a therapeutic companion like an ESA or PSD, understanding these new guidelines can help make your journey smoother.
Prohibited Breeds and Sedated Pets Onboard
American Airlines has a list of certain breeds that are not allowed onboard due to safety concerns. These restrictions primarily apply to short-nosed dog and cat breeds, as they can have difficulty breathing in the pressurized cabin environment. To know more about these restricted breeds, you can check out the official AA policy here.
Restricted Breed List According to American Airlines Service Dog Policies
The prohibited dog breeds include Boxers, Bulldogs (American or English), Pugs, Shih Tzus, and others. For cats, it's Himalayan and Persian types.
In addition to breed restrictions, American Airlines also prohibits tranquilized or sedated pets from flying. This is because sedation can increase health risks during flight.
Guidelines About Sedated Pets
If your pet requires medication for travel anxiety or other conditions, consult with your vet well before your trip so they can provide safe alternatives if necessary. It's crucial that owners understand the potential dangers associated with sedating their animals before air travel – both for their pet's welfare and compliance with airline regulations.
Always be aware of the specific policies regarding pets on flights when planning a trip, as each airline has its own regulations. Always review these carefully before booking any tickets to ensure a smooth journey ahead.
Coordinating With Other Carriers
Planning a trip with your furry friend? If you're flying with another airline besides American Airlines, it's crucial to understand their specific service animal policies. It's essential to look into the other carriers' regulations on service animals before planning a trip with your pet.
Coordinating Policies Between Different Carriers
Start by researching the other airlines' policies on service animals. Unearth the other airlines' regulations on service animals by browsing their official sites or contacting customer assistance. Once you've gathered all necessary details, compare them with American Airlines' Service Animal Policy.
Don't forget that some carriers may require submission of the Service Animal Relief Attestation Sanitation form within 48 hours before your scheduled departure time. And it's always important to ensure good behavior from your pet in public places like airport terminals.
Coordinating these policies may seem overwhelming, but it ensures a smoother and more comfortable travel experience for both you and your furry companion. Trust us, it's worth the effort.
Accessibility Commitment of American Airlines
American Airlines is devoted to providing accessible air travel for all, including those with disabilities who require the aid of service animals. This commitment extends to those who rely on service animals for assistance. Despite certain restrictions in place, the majority of flights still permit the presence of qualified and trained service animals.
This accessibility pledge aligns with the mandates set forth by the Air Carrier Access Act. The act requires airlines to accommodate passengers with different abilities as much as possible. For instance, wheelchair assistance can be requested in advance when necessary.
Assistance Requests
If you necessitate help with your flight or at the airport, American Airlines should be advised in advance so they can arrange suitable measures.
Documentation Requirements
To ensure smooth travels with a service animal, complete and submit all required documentation before your flight. This includes forms such as the Service Animal Air Transportation Form and the Animal Relief Attestation Sanitation Form.
Safety Measures
Safety measures are in place not only for passengers but also for their service animals' welfare while onboard an aircraft or inside airport terminals.
In conclusion, American Airlines aims to provide a comfortable and accommodating experience for all its passengers – human or otherwise. For more information, check out the American Airlines Service Animals page.
American Airlines Service Dog FAQs
Is a service dog considered a carry-on item on American Airlines?
No, American Airlines' policy states that a service animal is not counted as a carry-on item.
What questions does American Airlines ask about service dogs?
American Airlines may ask about the tasks the service dog performs and if it is required due to a disability, but they do not inquire about specific disabilities.
How do airlines verify if a dog is a service dog?
Airlines can verify a pet's status through documentation such as identification cards or written documentation from medical professionals.
Get Your Dog Certified as a PSD & Save Money on Pet Travel Fees
Traveling with your service animal can be a great way to save money on fees. American Airlines makes it relatively simple for pet owners to travel with their service animals or emotional support animals, although they do have rules to follow. All the documents needed can be found online and approval takes just a few days. Prohibited breeds include certain dog breeds as well as cats, while some other animals may not be able to fly due to safety regulations. Finally, make sure that your pet is leashed and well-behaved at all times during your journey and coordinate policies with multiple airlines if you are transferring from one carrier to another.
Taking these guidelines into account will help make air travel easier and safer, so you can focus on the more important things – having a good time! Don't forget that American Airlines is firmly committed to providing equal access opportunities for all people through its Air Carrier Access Act mandates. So don't let financial worries stand in the way of taking trips with your service animal – get them certified today and start saving!