Get Approved For Your Official Arkansas ESA Letter
Welcome to the Land of Opportunity for your furry companions, where Emotional Support Animals are approved for housing and Psychiatric Service Animals for travel. Our mission is to guarantee peace of mind in all scenarios. So why wait? Get your ESA letter today, and start living 'The American Dream' with your four-legged partner-in-crime!
Happy ESA Owners in Arkansas
Lilah Wilker
"Service Pets is Awesome! I was seriously struggling with depression and anxiety and now I finally have some relief. Thank you to the whole team for being speedy, responsive, and caring."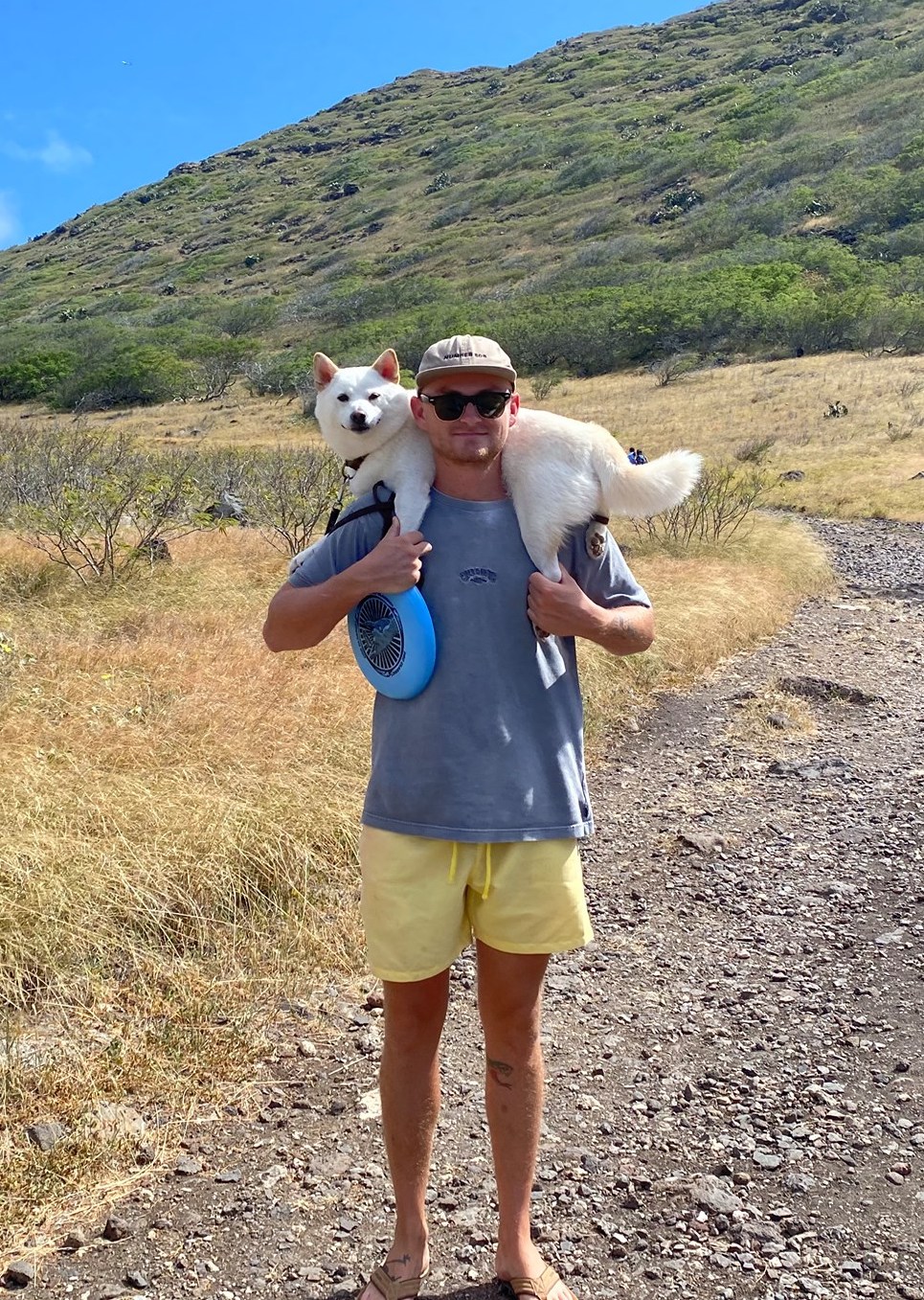 Kevin Blakermon
"Dude, perfect timing! Service Pets has got you covered. I love that I am able to bring my dog with me everywhere. I love that the process for getting ESA Certified was so straightforward. Thanks guys"
Jake Carry
"Let's be real, animals are much more than just pets. They literally save lives. Getting your ESA should be like a human right. Thank you Service Pets!"
Act now to get your official ESA letter today!
Certify Your Pet as An Emotional Support Animal in Arkansas
Life can be a real pain, especially for those of us suffering from anxiety, depression, or PTSD. Thank goodness for emotional support animals! If you're in Arkansas, your ESA letter is your golden ticket to taking your fuzzy buddy everywhere. It's like being Charlie in the Chocolate Factory, but instead of candy, you get unconditional love, support, and legal access. We know that dealing with life can feel like a ride at Disney World, but we're here to make your ESA letter process a breeze. Don't be silly and forgo getting your ESA letter; it's the secret weapon to getting through the ups and downs with your furry pal by your side.
3 Simple Steps to Getting an Arkansas ESA Letter Online
It's easy to dismiss the power of furry comrades, but for those fighting mental health or disabilities, pets prove to be paw-some cheerleaders. Our team makes getting an ESA letter for your pet hassle-free while also celebrating the emotional bond that makes pet-parenting so special. With us, your right to live with your fuzzy sidekick is fur-real, and we're committed to making this come true for Arkansas natives.
We have a quick and free questionnaire that could change your life! Whether it's a banger or a bummer, pick your poison. If it's all that and then some, cough up the dough for our Arkansas ESA letter, prices so low they'd make Hemingway blush.
Your worries are needless! Our doctors are trained specialists in mental and emotional well-being. So, we'll assess your worthiness- rest assured. It's a no-brainer that over 95% of individuals have been signed off by us.
Once you're confirmed, we'll slide into your inbox faster than a New Yorker ordering a bagel – which generally takes anywhere from hot minute to a full rotation of the Earth. After that, we've got it all for you: speedy downloads, paperbacks, even gear for you and your furry friend.
Service Pets has your back, so you can bring your furry bff along for the ride – the one guaranteed to make your heart sing. Get your ESA letter ASAP and make chilling with your emotional support animal a Rocky Balboa-caliber win. How Do ESAs Change Lives?
What happens when you combine emotional support, unconditional love, and loyalty? You get an emotional service pet! These furry friends have been changing lives for years, bringing joy and comfort to the people that need them most. Here are a few amazing facts about how these incredible creatures can help:
These are just a few of the amazing ways emotional service pets can change lives! Ready for your own furry friend? Contact your local animal shelter today and get ready to add some love and joy to your life. Frequently Asked Questions about ESAs in Arkansas
Who can write an ESA letter in Arkansas?
In Arkansas, only a licensed mental health professional can write an emotional support animal (ESA) letter. This includes psychiatrists, psychologists, clinical social workers, marriage and family therapists, or mental health counselors who are legally allowed to practice in the state of Arkansas. All letters must be current within the last year and come directly from the therapist's or licensed mental health professional's letterhead. There are no specific ESA laws in Arkansas, so it's important to check with your landlord and/or airline carrier for their specific ESA requirements.
How do I get an ESA letter in Arkansas?
Greetings Earthlings! At Service Pets, we fully grasp how an Emotional Support Animal can transform one's life. That's why our convenient online booking process makes it a breeze to obtain your ESA letter from seasoned mental health pros. Take our free prequalification test now, and let us help you welcome a cuddly partner into your world. Cheers to your comfort and joy!
How Much Does it Cost To Get an ESA Letter in Arkansas?
The cost of an ESA letter in Arkansas can vary depending on the provider. Generally, most providers charge between $150 - $200 for an ESA letter. This fee includes the assessment and all related paperwork needed to obtain an emotional support animal in Arkansas. While this initial cost may seem high, it is important to remember that having an ESA can provide a wide range of benefits for those suffering from mental health issues. In the long run, having an ESA could save time and money by supporting mental health care. Furthermore, with the right emotional support animal, life can be more enjoyable and manageable. All in all, the cost of an ESA letter is worth it!
What's Included in an Arkansas ESA Letter?
If you're an Arkansas resident looking to get an emotional support animal (ESA) letter, there are several key components that will be included. Here's a quick rundown of what to expect in your ESA letter:
The name of the licensed mental health professional who wrote the letter. All good things start with a name!
Information about the license they possess and their place of practice, so you can rest assured that your ESA letter is coming from a reliable source.
A statement outlining the purpose of the ESA letter - why it was written in the first place. Easy enough!
Identification of the specific emotional support animal that will be accompanying you.
A statement of need, which outlines the emotional or psychological benefit associated with having an ESA.
The length of time your ESA letter is valid for - usually around one year - so you know when it's time to renew!
Last but not least, professional letterhead and a signature to make it official.
By understanding what is included in an Arkansas ESA letter, you can have the confidence that your emotional support animal will have all the necessary documentation for travel and any other needs that may arise!
What Rules & Regulations in Arkansas Does My Pet Need to Adhere To?
In Arkansas, your emotional support animal must follow the same rules and regulations as any other pet in terms of licensing and vaccinations. That being said, there are a few extra protections that come with ESA status.
For example, housing laws require landlords to make reasonable accommodations for ESAs - meaning they can't charge you more or refuse to rent to you just because you have an ESA.
Additionally, ESAs are allowed to fly with their owners in the cabin of aircraft as long as they meet certain requirements; such as up-to-date vaccinations and a letter from your mental health professional stating that you need your ESA for emotional support.
It's important to be aware of all the rules and regulations in Arkansas so that you and your ESA can stay safe and abide by the law. All in all, having an ESA in Arkansas is wonderful - just make sure to use common sense and follow the rules!
Is an ESA the same as a PSA?
Is an ESA the same as a PSA? It's like asking if cats are better than dogs or vice versa. While both emotional support animals (ESAs) and psychiatric service animals (PSAs) offer companionship, there is one major distinction between them. They are not the same, ESAs provide emotional comfort while PSAs provide specific tasks related to their owners' psychological, mental, or behavioral disability.
All in all, ESAs and PSAs are two different entities with the same mission: to help those with disabilities live their best lives. In the end, it's up to you whether you want to give your home and heart to a four-legged friend or just love it from afar! Either way, they bring joy and love into our lives. Here are so distinguishing factors:
ESAs and PSAs need to be certified by a professional, so always check with your local authorities before investing in one. Make sure the professional is qualified to certify these animals!
If you're ever in doubt about the regulations associated with ESAs and PSAs, remember to always first check with your local authority or a professional for advice. Don't take any risks when it comes to these furry friends - they deserve our love and care!
It's important that ESA or PSA owners always do their research to make sure they fully understand the regulations and requirements for owning these animals. There are many resources available online to help make informed decisions when it comes to caring for your four-legged friend!
Hope this helps clear up any confusion about ESAs and PSAs. Now go out there and spread some animal love!
Where can I adopt an ESA in Arkansas?
Are you looking to adopt an emotional support animal (ESA) in Arkansas? You've come to the right place! Adopting a furry friend can be a life-altering experience, and we want to make sure that your adoption process is as smooth and easy as possible. Check out these local adoption centers:
No matter which adoption center you choose, you'll be sure to find a furry friend that's excited to join your family in Arkansas! Good luck, and happy adopting! 
Is Arkansas an ESA-Friendly State?
When it comes to emotional support animals (ESAs), Arkansas loves to show its affection! While many states make certain restrictions on ESAs, Arkansas has a few laws that are particularly friendly. For instance, the state's landlord-tenant law requires landlords to allow tenants with valid ESA letters to keep their emotional support animal in the property, even if the landlord has "no pet" policies.
In addition, Arkansas law also technically gives emotional support animals access to public spaces like restaurants and stores, though not all businesses are obligated to follow this.
Arkansas offers plenty of activities, events, and places that are perfect for emotional support animals (ESAs) and their owners. For instance, the Arkansas Dog Park Association host several enjoyable events throughout the year. These include doggy playdates, such as the "Pups & Pints" event in Little Rock.
Arkansas is a great place for ESA owners and their furry friends! There are plenty of opportunities for ESAs to socialize, have fun, and take part in special events. So get out there with your furry sidekick, and start exploring!
Do Arkansas ESA Laws Differ From Any Other States?
When it comes to emotional support animal (ESA) laws, Arkansas is no exception! While the rules vary from state to state, the Natural State has its own set of unique regulations for ESAs.
In Arkansas, an ESA must be approved by a licensed mental health professional. This means that if you're thinking about getting an ESA, you'll need to have a doctor's recommendation. Additionally, these animals can only be approved if they are necessary for the mental health and well-being of the individual.
One major difference between Arkansas and other states is that ESAs in this state must follow certain rules regarding public conduct. It's important to keep your ESA under control at all times, as failure to do so can result in the animal being removed from public areas. In addition, ESAs must be housebroken and up-to-date on their vaccinations.
In terms of housing, Arkansas has specific provisions for ESAs. Landlords may not reject an individual's application for housing solely because they have an ESA. Furthermore, landlords may not charge extra fees for ESAs or restrict the type of breed allowed in the property.
Overall, Arkansas has its own unique set of rules and regulations regarding emotional support animals. By understanding these requirements, you can ensure that your ESA is always in compliance with state laws. 
Do Arkansas ESA Laws Differ From City to City?
When it comes to emotional support animal (ESA) laws, Arkansas gets a little tricky. Depending upon the city you're in, the rules and regulations surrounding ESAs can differ significantly.
Take Little Rock for example: ESA owners have certain public access rights that aren't available in other cities, like Fayetteville or Bentonville. You may be allowed to bring your ESA into pet-free restaurants, parks, and other public places in Little Rock that are off limits elsewhere.
But it's not all good news: some cities in Arkansas have more stringent rules than others when it comes to ESAs. In Fayetteville, for instance, you may need to register your ESA with the city in order to enjoy these same privileges. And that's not all: many cities have specific ESA laws regarding where your pet can and cannot go, so make sure you do your research beforehand.
No matter which city you're in, though, it's important to make sure you comply with the local laws and regulations surrounding ESAs. Ignorance of the law is no excuse, so do your due diligence and be aware of your rights and responsibilities as an ESA owner in Arkansas. If you take the time to learn about the local rules, it'll pay off in the end and ensure that both you and your furry friend are able to enjoy all of the privileges that come with being an ESA owner.
How Do I Qualify For an ESA Letter in Arkansas?
Living in Arkansas with a mental or emotional disability can be difficult, but qualifying for an emotional support animal (ESA) letter can make it easier. Having an ESA can provide significant benefits to those living with mental and emotional disabilities in the Natural State. Here's how you can qualify for an ESA letter in Arkansas:
First, you must be diagnosed with an emotional or mental disability by a qualified healthcare professional such as a psychologist, therapist, psychiatrist, or other licensed mental health practitioner. This professional must have knowledge of your condition and must provide evidence that you are disabled in some way that would benefit from having an ESA.
Once approved for the letter, you will need to provide proof of your disability, such as medical records or a prescription from your doctor. This will ensure that the letter is valid and accepted by landlords and other agencies.
In order to qualify for an ESA letter in Arkansas, you must also demonstrate the need for an emotional support animal. You can do this by showing how having an ESA would make life easier for you, such as providing comfort and emotional support during stressful times. Be sure to include concrete examples of how your ESA will help you in your application.
Finally, it's important that you provide a signed statement from your doctor or other qualified healthcare professional confirming the need for an ESA at the time of submission. This will ensure that your letter is properly authorized and accepted.
Once you've qualified for an ESA letter in Arkansas, you can enjoy the many benefits of having an emotional support animal by your side.
Can I have more than one ESA in Arkansas?
In Arkansas, you can indeed have more than one emotional support animal (ESA). The state allows for a person to possess multiple ESAs – so long as the animals do not create a disruption or cause any damage or harm.
Additionally, all legal requirements associated with owning an ESA must be met before bringing a new animal into the home. This includes ensuring that the animal is registered, adequately trained, and in good health. With these guidelines in mind, it's possible to enjoy the company of multiple ESAs in Arkansas. Who says one ESA can't have friends? Let the good times roll! 🙂
Can a landlord in Arkansas discriminate against an ESA owner?
No way, José! Under the Fair Housing Act in Arkansas, emotional support animals are protected from discrimination. That means that landlords can't reject a tenant solely because they own an ESA. Of course, any reasonable accommodations must be made to ensure the animal's safety and comfort, but other than that – no discrimination allowed! So if you're an ESA owner in Arkansas, you can rest easy knowing that your furry companion is welcome!
P.S. Always make sure to check the specific laws in your state before bringing an ESA into any rental property – it's always best to be safe rather than sorry!
Can a landlord in Arkansas ask for ESA certification?​
The short answer is yes, a landlord in Arkansas can ask for an emotional support animal (ESA) certification. However, the type of documentation and when it's requested varies from state to state and even between different landlords.
Generally speaking, most landlords will require proof that the ESA has been certified by a licensed medical professional or therapist to demonstrate that it is providing an essential service to the tenant. Additionally, landlords in Arkansas may require additional documentation such as a medical history and proof of vaccinations for the ESA before allowing it on their premises. Ultimately, it's important to check with your landlord regarding their specific requirements when considering getting an emotional support animal in Arkansas.
Remember: Every landlord has different requirements, so it's important to check before bringing your ESA home! Good luck and happy furry friend hunting. 🙂
What if the landlord in Arkansas has a "no-pet" policy?
Most landlords are allowed to enforce no-pet policies and deny the presence of an animal on their property. However, there are some exceptions.
According to the Fair Housing Act, a landlord may not refuse reasonable accommodation requests for an ESA if you can provide documentation from a licensed mental health professional. So, if you need your furry friend by your side in Arkansas, make sure to get the proper paperwork first!
This is just one of the many hoops that emotional support animal owners have to jump through. But don't worry – with some preparation and knowledge of ESA laws, you can live peacefully with your animal companion in Arkansas. Good luck!
Can a landlord in Arkansas charge a pet fee for Emotional Support Animals?
The answer to this question in Arkansas is a big, bold "No!" Landlords in Arkansas are not allowed to charge pet fees for certified Emotional Support Animals (ESAs). This has been the case since 2014 when the Fair Housing Act (FHA) was amended to include ESAs as reasonable accommodations. The FHA specifically prohibits landlords from charging additional fees and deposits for ESAs, so they are not allowed to collect pet fees from tenants with an ESA. So, if you're a tenant in Arkansas looking for a place that will accept your emotional support animal without any extra cost, you're in luck! You can make sure your landlord is following the law by having them confirm their understanding in writing. That way you can be sure that your furry friend won't cost you a pretty penny. Yee-haw! *wink wink* 🙂
Do I have to tell my landlord in Arkansas that I have an ESA?
In Arkansas, the answer is yes. According to state laws, it's important for tenants with an emotional support animal (ESA) to let their landlord know. That way, your landlord can make sure your ESA receives all the rights and privileges that they're entitled to! Plus, it never hurts to provide a bit of extra peace of mind for your landlord. After all, an ESA is a part of the family too! So make sure to give them a heads up and keep communication open with your landlord.
Hopefully that helps clear things up when it comes to letting your Arkansas landlord know about your ESA. Good luck!
Can a landlord in Arkansas restrict renting to an ESA owner based on breed and size?
If you're an ESA owner in Arkansas, we've got some good news for you: breed and size restrictions can't stop you from renting a place! That's because according to the Fair Housing Act, landlords are not allowed to deny an applicant based on their emotional support animal.
So don't worry if your pup is too big or a certain breed - no matter what kind of ESA you have, Arkansas has your back! Plus, with all the natural beauty the Natural State has to offer, there will be plenty of places to explore with your furry friend. Happy trails!
Are there any exceptions to Arkansas ESA housing laws?
When it comes to emotional support animals (ESAs) in Arkansas, there are a few exceptions that may apply:
An ESA cannot accompany the tenant or landlord inside of a place of business or government office.
ESAs must remain on a leash at all times while in public and cannot be allowed to run wild.
Landlords have the right to require an ESA owner to provide documentation from their doctor stating that they need the animal for emotional support.
If an ESA is causing any type of disturbance such as excessive barking, then landlords can take action against the tenant.
The tenant must also pay additional rent if their ESA will be occupying more space than what is normally allotted.
If the ESA damages the property, then the tenant is responsible for covering all costs associated with repairing said damage.
Landlords must also make reasonable accommodations for ESAs and cannot deny a tenant's request to bring in an animal due to breed or size.
So there you have it folks - while Arkansas doesn't offer the same protections as other states, there are still some exceptions when it comes to housing laws related to emotional support animals! Keep these in mind before moving into your new residence. And remember: if you're ever in doubt, don't hesitate to consult with a lawyer. Happy living!
Can a college student in Arkansas have an emotional support animal in on-campus housing?
Attending college in Arkansas can be a bit of an emotional roller coaster, but you don't have to go it alone! Many colleges and universities in the state are beginning to recognize the need for emotional support animals (ESAs) on campus. Depending on your institution's policies, you may even be able to keep your furry friend with you in your on-campus housing! To make sure you and your ESA are in compliance with all local regulations, here is a list of resources for college students to understand the rules and regulations around emotional support animals on campus:
The Arkansas Department of Health has compiled a comprehensive guide to the rights of those living with an emotional support animal. This document outlines the laws and regulations governing the presence of ESAs in Arkansas.
The University of Arkansas at Little Rock provides an online resource to help students learn more about on-campus ESA procedures. This includes information on the type of documentation required for your ESA, as well as information on registering your pet with the university.

The University of Arkansas at Fayetteville has compiled an online resource to help students better understand the legal guidelines around emotional support animals on campus. This includes information about ESA-specific housing policies, as well as a link to the university's pet registration forms.
No matter your college or university, having a furry friend with you can make all the difference in your emotional well-being. Make sure you know the laws and regulations around ESAs on campus so that both you and your pet can live happily ever after! Good luck!
Can I bring my ESA to my office in Arkansas?
If you have an emotional support animal (ESA) and live in Arkansas, there are certain rules and regulations that must be followed when bringing your ESA to work. For starters, your employer must allow it under the Americans with Disabilities Act (ADA), but there are some exceptions when considering where you work.
For example, this means that companies like McDonald's may not permit ESAs in their restaurants. Additionally, even if your employer is willing to let you bring your ESA with you, they may require that the animal be under your control and remain calm at all times. Therefore, it's important to make sure that your pet is well-trained before bringing it along.
Finally, it's wise to check with your local city or county laws to make sure there aren't any additional restrictions on bringing an ESA to a workplace. With these tips in mind, you can be better prepared for bringing your furry friend with you to work!
Good luck and have a pawsitively wonderful day! 🙂
Does an employer in Arkansas have to provide accommodations for an Emotional Support Animal?
Have you ever found yourself wondering if your boss in Arkansas has to provide accommodation for your emotional support animal? Us too! That's why we did a deep dive into all the laws and regulations surrounding ESAs in The Natural State.
First things first: yes, employers in Arkansas do have to provide reasonable accommodations for employees with an emotional support animal. These accommodations could come in the form of allowing your ESA to accompany you during work hours, providing appropriate areas for your pet to relieve themselves or sleep, or even making reasonable adjustments to production times and schedules if necessary. That being said, employers do have the right to ask for documentation regarding why an emotional support animal is necessary for a person's wellbeing.
The laws surrounding ESAs in Arkansas may seem intimidating at first glance, but once you know the basics they're really quite simple. We hope this guide has been helpful in answering your questions about emotional support animals in The Natural State!
Can I bring my ESA or PSA on an international flight out of Arkansas??
Ah, the age-old question: Can I bring my ESA or PSA on an international flight out of Arkansas? Well, we've got some good news for you. The answer is yes! But before you and your furry friend can jet off to your ultimate destination (or fur-ever home), there are a few things you need to know.
For starters, your emotional support animal (ESA) or psychiatric service animal (PSA) must be up-to-date with their vaccinations and have any necessary travel documents like an international health certificate. Additionally, you may need to provide documentation from your veterinarian that states they are medically able to go on the flight.
Keep in mind, airlines have separate rules and regulations when it comes to ESA/PSA travel. So make sure you check with your airline ahead of time to see what their specific policies entail.
Finally, if you're looking for an extra paw-some time while traveling abroad, consider keeping your ESA or PSA in a pet carrier while on the plane. That way, everyone can have an amazing experience in the friendly skies!
Now that you're ready to take your trip, Bon Voyage and happy tails! 🐾😊🛫🌎
Can I bring my ESA on an in-state flight in Arkansas?
If you're planning a trip in Arkansas and want to bring your Emotional Support Animal (ESA) along for the ride, the answer is yes! The laws in Arkansas are friendly to travelers with ESAs. So just grab Fido or Fluffy and hit the road — or runway as it were. Just make sure you have all your documents and certifications in order. Have a safe trip!
But remember, even if the law allows it, make sure to double-check with your airline that they are ESA friendly before booking your ticket. That way you can avoid any turbulence when it comes to bringing your furry friend along for the ride. Happy travels!
What are Arkansas's ESA Public Access Laws?
In Arkansas, emotional support animals (ESAs) are protected by the state's Equal Access to Public Accommodations Act. This law states that any public accommodation that allows service animals must also allow ESAs in its building, provided they meet certain requirements.
For example, the ESA must be housebroken and under control of a handler at all times. Furthermore, owners of ESAs must be able to provide medical documentation from a mental health professional in order to enter public spaces with their animal.
With these laws in place, Arkansans can enjoy their ESA's company without worrying about potential discrimination or access issues. It's like that famous line from Legally Blonde: "What, like it's hard?" when it comes to ESAs in Arkansas.
So if you have an ESA and live in Arkansas, don't worry—your furry friend will be protected by the law! Just make sure your ESA is up-to-date on all licensure requirements and that you have the proper documentation before entering any public space. Happy trails!
What public places can I bring my emotional support animal in Arkansas?
In Arkansas, you can take your emotional support animal just about everywhere with you! That's right - no matter if it's to the grocery store, a restaurant, or a movie theater - you and your ESA are free to enjoy life in the Natural State. Here's a breakdown of what public places welcome ESAs in Arkansas:
Grocery Stores: Get your eggs, milk, and ice cream without worrying if Fido can come with you! ESAs are welcome in most grocery stores.
Restaurants: With the exception of food preparation areas, emotional support animals can accompany their owners out to eat. Plus, there's no need to worry about the no-doggie policy - your furry friend is welcome!
Movie Theaters: Whether you're in the mood for a classic or an animated flick, ESAs are free to sit right alongside their owners.
Public Transportation: Taking public transportation with Fido? No problem! Emotional support animals are allowed to join their owners on buses, trains, and other forms of public transportation in Arkansas.
Hotels: Pack your bags without worrying about finding a pet sitter! ESAs can stay right alongside their owners in most hotels throughout the state.
So what are you waiting for? Grab Spot's leash and check out all that Arkansas has to offer! With emotional support animals welcome in public places, you can make the most of your time together. Enjoy!
Can I bring my ESA to a hotel or restaurant in Arkansas?
As an Arkansan, you may be wondering whether or not you can bring your emotional support animal (ESA) into a hotel or restaurant. We're here to let you know that the answer is yes! According to Arkansas law, ESAs are allowed in all public places and establishments as long as they are properly registered and kept under control. So, grab your pup and hit the town - you're good to go! And don't worry - your furry friend won't be turned away at the door. Sorry, no doggy dress code necessary. Bon Appetit!
However, please note that ESA owners are responsible for any property damage caused by their animals, and may be required to compensate the establishment for any costs incurred. Keep that in mind as you take your furry friend out on the town!
So, there you have it - Arkansas is an ESA-friendly state. Now go show off your pup (or kitty or bunny) to all your friends! Who said ESAs weren't allowed to have fun? Not us!
Have a great time and happy travels!
Apply for an ESA in Arkansas Online Today!
Service Pets makes it easy to get your pet certified as an emotional support animal. 
Simply fill out the form to schedule a consultation with one of our Arkansas state-licensed therapists!