Legitimate ESA Letters for California Residents
Service Pets is California's leading source for approving emotional support animals for housing and psychiatric service animals for travel, we're here to provide you with an ESA letter. We've got you and your pet's back, so that ya'll can namaste together all the time. Get the zen you need to live a happier life with your furry companion.
Happy ESA Owners in California
Shania Wheeler
Service Pets totally rocked! Obtaining an ESA letter for my quirky pet was stress-free and easy-peasy. As someone dealing with anxiety, my furry pal has been a total lifesaver. But let's be real, getting an ESA letter can feel like a maze. Thank goodness for Service Pets, they made the journey unforgettable!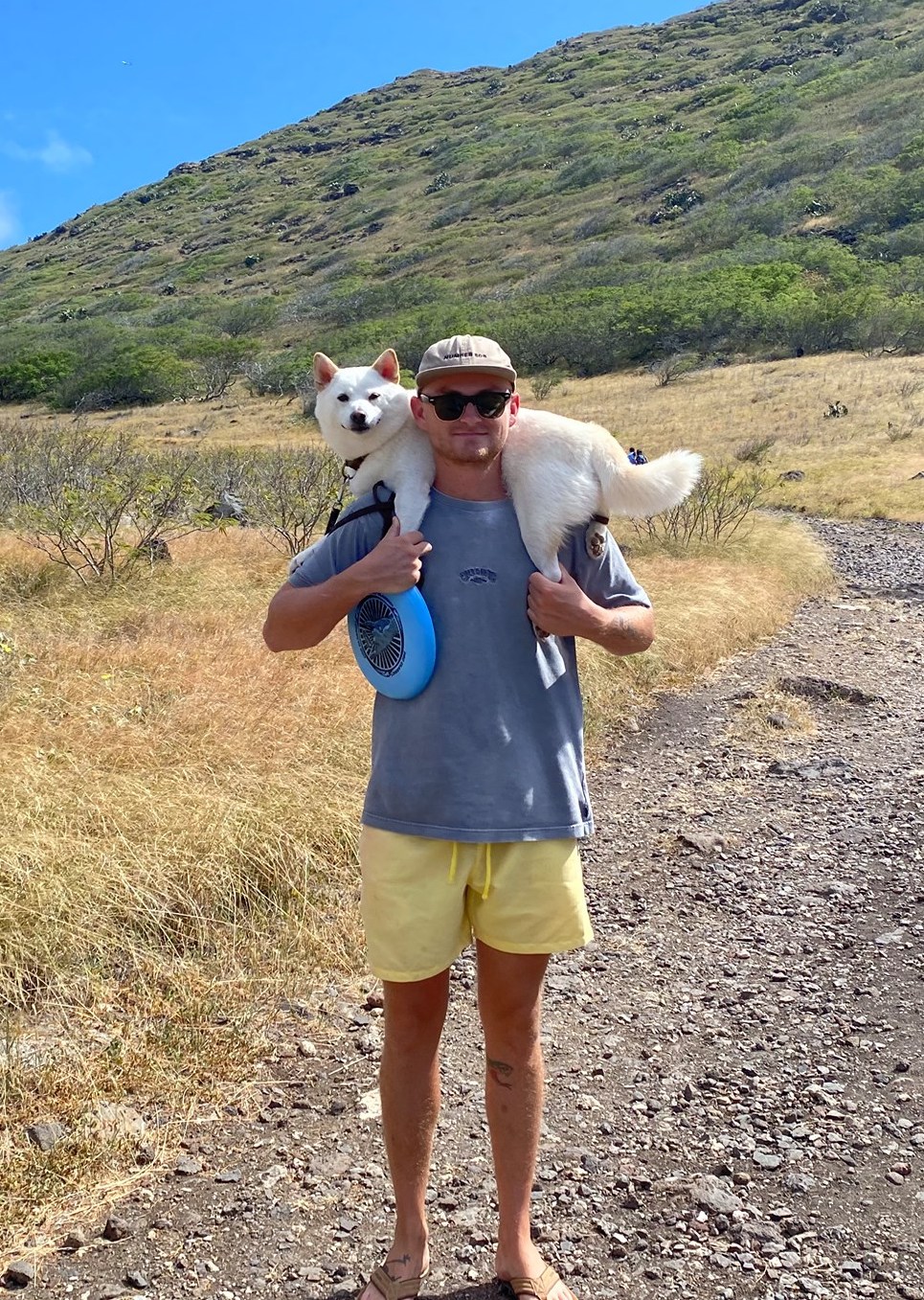 Freddie Chamberland
"Wow, dude! Service Pets totally made what could have been a gnarly and super complicated process way easier and chill. They were totally professional, and I felt way cared for and supported all the way through. I cannot recommend Service Pets enough to anyone who needs an ESA letter for their pet. Thanks a ton for making it so simple and stress-free - you guys rock!"
Sean Yadav
"As I embarked on my journey of self-reflection, I yearned for a companion that would see me through the thick and thin. Through a comprehensive evaluation and a soulful consultation with Service Pets therapist, I discovered that I qualified for an ESA letter. What a transformative experience! Oh, and did I mention how seamless it was?"
It's in the Cards! Get your official ESA letter today.
Certify Your Pet as An Emotional Support Animal in California
Having a furry companion to rely on for emotional support can make all the difference. From veterans dealing with post-traumatic stress disorder to individuals struggling with depression and anxiety, having an ESA can provide companionship and a sense of comfort. When it comes to emotional support animals in the state of California, it's important to make sure that you and your pet meet all the legal requirements. If you're looking to make your pet an official Emotional Support Animal in California, the process can seem a bit daunting. But don't worry, because here at Service Pets we've got you covered! We make it our mission to provide the best service possible when it comes to certifying your beloved pet as an ESA.
3 Simple Steps to Getting an California ESA Letter Online
Getting an ESA pet doesn't have to be as complicated as Jon Snow's quest for the Iron Throne. We understand that our customers are looking for a furry friend to call their own, and that's why we make the process of getting an ESA pet as simple as possible. From finding the perfect pup to making sure they have all the paperwork they need, we've got you covered.
Answer our fast, free questionnaire to see if you qualify! With no obligation on your part, assess the results of your answers – if they meet expectations, pay only a small fee that will save you big in the long run for one of our medical experts to review it. Our prices are unbeatably low for the official ESA letter in California!
Our contracted doctors specialize in mental and emotional health and will assess if you qualify! You'll be glad to know that over 95% of individuals seeking help through us are approved. So what are you waiting for? Life is ruff without your pup.
Once confirmed, we will keep you informed of your approval with an email – this typically takes between minutes to 24 hours. Next, instant downloads are available, printed copies, and other items such as a training manual or service vest for any potential companion!
Service Pets makes it simple to acquire an ESA letter in California. Don't wait any longer and get ready to experience all the perks of having your own emotional support animal. Before you know it, you and your furry friend will be Netflix and chillin', cuddling up for movie marathons all day long. What Does A Legitimate ESA Letter in California Look Like?
The healing power of emotional support animals has long been known as a powerful remedy for those suffering from physical, emotional, and mental distress. By providing companionship and unconditional love, these creatures can bring solace to their owners when times are hard. Their capacity for emotional intelligence can be seen in the way they recognize our inner struggles and offer unconditional support. Even the most empirical of scientific studies have shown that there are real, life-changing benefits to having an emotional support animal. Here are a few statistics and facts about ESAs: Frequently Asked Questions about ESAs in California
Who can write an ESA letter in California?
If you're a Californian in need of an ESA letter, look no further! In California, any licensed mental health professional can write you an ESA letter. That means psychiatrists, psychologists, clinical social workers, psychiatric nurses and marriage and family therapists can all help you out. Whether your therapist is as chill as the crew from 'Friends' or as sassy as Samantha from 'Sex and the City', they can write you an ESA letter if they feel it's necessary. So don't think twice about getting in touch with a licensed mental health professional to help you get your ESA letter!
Getting an ESA letter in California is a quick and easy process, so don't delay your furry friend's official certification any longer! Service Pets can provide you with a mental health professional online, and get you and your pup on the path to getting your ESA letter fast. Good luck!
How do I get an ESA letter in California?
You and your  furry pal should be able to go everywhere together. Here at Service Pets, we know just how beneficial an Emotional Support Animal can be. Our convenient online booking process makes it fast and easy to get your ESA letter from experienced mental health experts. Go ahead and take our free prequalification test now in order to begin the journey! 
How Much Does it Cost To Get an ESA Letter in California?
The average cost to receive an ESA letter in California is typically between $150 and $200. This price can vary depending on the doctor providing the ESA letter, as well as any additional services they may offer. Many doctors provide a one-time fee for their ESA letters, while others may charge per visit or have additional fees associated with certain services. Additionally, some doctors may provide discounts for veterans or special rates for those in financial need. It is important to check with the doctor you choose to find out what the cost will be and if any additional fees apply.
Start your application today with one of our licensed and experienced mental health professionals! 
What's Included in a California ESA Letter?
Licensed Mental Health Professional's Name: A licensed mental health practitioner (such a social worker, psychologist, or psychiatrist) should draft and sign the letter.
License Information and Place of Practice: The mental health specialist must provide the state and city in which they practice as well as the details of their licensure.
Specific Emotional Support Animal: The patient's emotional support animal must be mentioned in the letter, along with information about the animal's breed, name, and brief description.
Statement of Need: The letter must describe the patient's particular mental health issue, stress how serious it is, and stress how important having an emotional support animal is to the patient's recovery.
Length of ESA Letter Validity: The letter must include the date of issuance and the validity duration.
Professional Letterhead and Signature: The mental health specialist must sign the document and include their name, address, and professional letterhead.
What Rules & Regulations in California Does My Pet Need to Adhere To?
If you're a pet parent living in California, it's time to get your furry friend up to speed on the rules and regulations of their new home state! After all, you don't want to get stuck in a jam with the local authorities and incur hefty fines. Here's what you need to know:
First off, your pet needs to be licensed. Most cities and counties in California require cats and dogs to have a license, so check with your local municipality for more information. If you're caught without a valid license, you could face hefty fines.
Every pet needs to stay up-to-date on their vaccinations. You should also make sure that your vet has the correct contact information for you and your pet, as this is required by California law.
When you're out and about with your fur baby, always make sure they are wearing a collar and ID tags. These will help keep them safe in case they ever get lost (gasp!)
Finally, understand that there are rules and regulations regarding where your pet is allowed to be. If you're not careful, there could be consequences for having your pet in certain places.
Is an ESA the same as a PSA?
When it comes to acronyms, it's easy to get confused — especially when two of them mean almost the same thing. So is an ESA (Emotional Support Animal) the same as a PSA (Psychiatric Service Animal)? In short, no.
An ESA and a PSA are both emotional support animals, but the key difference is that a PSA is specifically trained to do work or perform tasks for its handler. For example, a PSA can be trained to alert its handler of an impending panic attack and help them manage it, or remind their handler to take medication. On the other hand, ESAs are intended solely for emotional support and do not have to be trained to perform any tasks.
In conclusion, yes there are similarities between an ESA and a PSA but they are not the same animal — so don't get them mixed up! An ESA is for emotional support only, while a PSA is an animal that has been specifically trained to do certain tasks to help their handler.
Where can I adopt an ESA in California?
Are you ready to welcome a furry friend into your life? Adopting an Emotional Support Animal (ESA) in California can be a fulfilling experience, and we're here to help you every step of the way. Whether you're looking for a cuddly pup or an independent cat, there are plenty of options in the Golden State.
California has several options for those looking to adopt a furry friend, including shelters, breeders, and animal rescue organizations. With some research and preparation, you can find the perfect companion for your home. Shelters have great programs in place for screening potential adopters and ensuring that their animals are placed in safe homes. Breeders can help you find a specific type of pet, or one with special traits, that you may be looking for. Animal rescue organizations are another great option as they often have an array of animals to choose from, and their adoption process can be more flexible than other options.
While finding your ESA in California is easy enough, there are some things to consider when adopting. For one, it's important to be aware of any local laws that may affect your ESA's rights and responsibilities in your area. Additionally, if you plan on taking your new pet out in public, note that some places do not allow animals, even those with an ESA tag or vest. Lastly, make sure to allot enough time, energy and resources for your ESA's care.
Is California an ESA-Friendly State?
Yes, California is a very ESA-friendly state. In fact, you could say that it's an ESA utopia!
From the streets of San Francisco to the beaches of Los Angeles and everywhere in between, it's full of friendly people who love their furry four-legged friends.
Whether you have a tiny Chihuahua or a massive Mastiff, you'll find plenty of places to take your pet out for a walk or just hang around. Even better, many establishments in California welcome ESA dogs and cats, so you don't have to worry about leaving them behind when you go out with friends. So if you're looking for a place that loves ESAs as much as you do, look no further than California! It's the perfect place to explore the world with your furry companion in tow.
From hikes, to beach trip, or just a stroll down the street, you can rest assured that your ESA pet will be welcomed everywhere you go. So come and experience all that California has to offer—including its love for ESAs! It's truly an ESA paradise.
Do California ESA Laws Differ From Any Other States?
When it comes to California ESA laws, there is no doubt that they are unique. While other states have comparable laws and regulations related to emotional support animals (ESAs), the specific requirements in California stand out from the rest.
California's ESA law officially known as the California Disabled Persons Act (CDPA) provides people with disabilities the right to use an emotional support animal in public and housing places. The law states that a person's disability must be clear, meaning it is not enough for someone to simply say they have a disability, but instead needs to provide medical documentation or certification from a licensed mental health professional.
The law also requires that the ESA meet certain criteria such as being housebroken, well-behaved and socially acceptable. In addition, the law states that landlords must permit service animals in rental properties unless there are reasonable safety concerns for other tenants or staff.
Ultimately, the laws surrounding emotional support animals in California can be confusing. It is important to understand both state and federal laws before attempting to register an animal, in order to avoid any potential legal issues. By educating oneself on the laws and regulations related to ESAs, individuals can ensure that their pet is registered properly and that they are able to take advantage of all the benefits associated with having an ESA.
California's ESA laws might be distinct from those of other states, but they are still in place to provide individuals with the support and companionship of an ESA, as well as access to public places. By familiarizing oneself with the regulations associated with owning an emotional support animal, one can ensure that they are taking full advantage of these legal benefits.
Do California ESA Laws Differ From City to City?
The California Emotional Support Animal (ESA) laws are different from city to city, with each municipality having its own regulations and restrictions. Whether you live in San Francisco or Los Angeles, there are certain rules that must be followed for your ESA pet to be recognized as an emotional support animal in the eyes of the law.
In general, California law requires that your ESA pet be registered with the local animal control authority and have a current license. In addition, most cities mandate that your ESA pet must wear a visible collar or tag to designate it as an emotional support animal. Additionally, you may be required to carry documentation from a licensed mental health professional verifying that your ESA pet is necessary for your emotional well-being.
It's important to be aware of the specific laws in your area, as they can vary significantly from city to city. For example, some cities may limit the size or breed of your ESA pet while others may place restrictions on where you are permitted to take your animal. It is also essential that you are aware of the specific landlord requirements in your area and how they affect you.
By researching your local laws and regulations, you can ensure that both you and your ESA pet remain in compliance with the law and that your animal is recognized as a legitimate emotional support animal.
How Do I Qualify For an ESA Letter in California?
Are you feeling down in the dumps and not sure if you qualify for an ESA letter in California? Don't worry, here at Service Pets we've got your back! As long as you have a mental or emotional illness that is affecting your daily life and having a negative impact on your wellbeing, then you may qualify for an ESA letter.
Essentially, if you feel like you need a companion to help you lift your spirits and get through tough times then an ESA could be just what the doctor ordered (no pun intended!) So don't wait any longer—come on over to Service Pets and let us help you get the emotional support animal of your dreams and the ESA letter you need to ensure your furry friend can come everywhere with you. And who knows, maybe they could even be your sidekick in crime—or just a faithful companion! Either way, we're here for you. Get Started with out service pets quiz today!
Can I have more than one ESA in California?
If you're asking yourself if it's possible to have two ESA Pets in California, the answer is yes! You know what they say: Double the pet, double the fun (or double the trouble? We won't judge).
Of course, with great power comes great responsibility. So when it comes to managing your furry duo, you'll have to make sure you're in compliance with all ESA Pet Laws in California. That means when it's time to take your furry friends out for a spin, they'll both need to be wearing their ESA vests so there's no confusion as to their emotional support status. Plus, it's just good style!
After all, you don't want to be THAT person walking two animals around town with no identification. We're sure your fur babies will thank you for it! So if you're feeling ready for double the cuddle time, get yourself (and them) prepared and start spreading the word: Two ESA Pets in California? Yes you can! With the right preparation and understanding of ESA Pet Laws, there's no reason why your two-pet family can't be just as happy as any other. Go forth and love on those furry friends of yours!
Can a landlord in California discriminate against an ESA owner?
Ah, California: the Golden State. Where dreams come true and anything is possible... except for discrimination against ESA owners. As a pet owner, it's obvious that you agree with this law— and — all landlords in California must follow ESA Pet Laws which protect tenants from being discriminated against due to their emotional support animal (ESA). So, sorry to break it to you landlords: no discrimination allowed.
So there you have it, Californian landlords— ESA's are here to stay, so no discrimination allowed! Let's just all agree that this law is beneficial for everyone and help make California (and the world!) a better place for us— and our furry friends too! Happy petting.
Can a landlord in California ask for ESA certification?​
As a tenant living in California, you may be wondering if your landlord can ask for proof that your pet is an ESA (Emotional Support Animal). The answer is yes...kind of.
Under California housing laws, landlords must permit tenants with disabilities to keep ESAs. However, they are allowed to inquire about the need for the animal and may ask for certification of the animal's status. So, if your landlord is asking you to provide proof that your pet is an ESA, don't panic!
Just be prepared with all of the necessary documentation and show them what they need to see. That way, you can rest assured knowing that Fluffy (or whatever your furry friend's name is) can stay with you and provide emotional support while you're living in your rented home. And don't worry, this isn't a 'don't ask, don't tell' situation – so feel free to gush about how amazing your ESA is! Let's hope your landlord has a sense of humor. 🙂
What if the landlord in California has a "no-pet" policy?
If you're a Californian tenant who's been wishing for an emotional support animal, the good news is that there are Animal Laws in place to help! California's housing laws protect those with disabilities and their need for an ESA. Even if your landlord has a "no-pet" policy, they are not allowed to deny your ESA pet. So go ahead and cuddle up with your furry friend – you're covered! Just make sure to have all the right documents ready when it comes time to fill out the paperwork. Now, if only this was true for our Kardashian pets, too… Right?! 🐶😉
But seriously, it's important to remember that you don't need to feel alone or helpless when dealing with your landlord. Many landlords are happy to accommodate and understand the importance of having an ESA. The law is on your side so don't be afraid to speak up for yourself!
Can a landlord in California charge a pet fee for Emotional Support Animals?
Good news! Landlords in California can't charge pet fees for Emotional Support Animals (ESAs). There's no need to break out your credit card, much like the way you wouldn't pay a fee to bring an extra plus one to a party. After all, your ESA is part of the family, so it should be free to come and go as it pleases.
When it comes to service animals in California, landlords must allow tenants to keep an ESA at their residence but can require proof of a disability and/or a letter from a physician or mental healthcare provider. So make sure you have all your paperwork in order to keep the landlord happy and your ESA at home!
Do I have to tell my landlord in California that I have an ESA?
If you live in California and are lucky enough to have an emotional support animal (ESA), you might be wondering if you need to tell your landlord. Don't worry, we've got the 411!
According to ESA Pet Laws, landlords are not allowed to deny tenants with ESAs or charge them additional pet fees. In other words: You don't have to tell your landlord about your ESA - you can keep it a secret like an episode of The Real Housewives. Just make sure that you bring any necessary documentation from your therapist or doctor in case something comes up! And if your landlord does happen to find out, just remind them that the law is on your side. Happy living!
Can a landlord in California restrict renting to an ESA owner based on breed and size?
If you own an emotional support animal (ESA) and live in California, you may have heard some landlords trying to restrict what kind of pet they can accept. But don't fret - ESA laws in California are there to help protect you! Unless the landlord has a valid reason, they're not allowed to turn away your ESA just because of their breed or size. After all, why should little Fluffy be held back from getting the loving environment they deserve?
As ESA owners, it's important to know your rights when it comes to renting in California. The last thing you want is for your beloved pet to feel like a second-class citizen just because of their size - we all know that big or small, Fluffy is always a first-class pup! So don't let anyone tell you otherwise - ESAs have just as much of a right to be in California as anyone else.
Are there any exceptions to California ESA housing laws?
When it comes to the California ESA housing laws, there are a few exceptions that should be noted. For instance, while landlords are generally not permitted to turn away applicants based on their emotional support animals, they can still deny certain breeds that have been known to have aggression issues (such as pit bulls). Additionally, in some instances landlords may determine that the size of the animal is too large for the rental, or that housing more than one ESA would be unreasonable.
It is important to note, however, that although there are exceptions to California's ESA laws, they are intended to protect tenants who require emotional support animals in order to live comfortably and independently. So if you're looking to bring your furry (or scaly, or feathered) friend with you when you move, it's best to start by researching the local ESA laws. And who knows? Maybe one day all 50 states will be channeling their inner Snoop Dogg and embracing the "Gin and Juice" lifestyle – where everyone has an ESA by their side.
Can a college student in California have an emotional support animal in on-campus housing?
Yes, a college student in California who has a disability can have an emotional support animal (ESA) living with them in on-campus housing. The Fair Housing Act and the Americans with Disabilities Act both protect individuals with disabilities from discrimination due to their need for an ESA.
To qualify for this protection, students must provide documentation of their disability from a licensed mental health professional and the need for an ESA in order to function. The college must also provide reasonable accommodation, such as allowing pets in residence halls, if it does not cause an undue financial or administrative burden.
Having an emotional support animal on campus can be beneficial for students with disabilities; having a pet can reduce stress and anxiety, improve mood, and even bolster one's social life. It pays to know your rights as a college student in California with an ESA - for more information about emotional support animals, visit the U.S. Department of Housing and Urban Development website.
Resources:
Can I bring my ESA to my office in California?
If someone told you that your emotional support animal (ESA) could join you at the office, you would probably think they were just trying to pull a fast one on you! But believe it or not, it is completely legal in California for your ESA to accompany you to work. The key is understanding the rules and regulations put in place by the state.
California has made it fairly easy to bring your ESA with you by recognizing that psychological disabilities are covered under the Fair Housing Act and Americans with Disabilities Act, among other laws. The important thing is making sure that your office meets all of the requirements for an ESA to be allowed on the premises. These include having a pet policy in place, allowing the animal to be with you during work hours, and accommodating for any allergies your coworkers may have.
In addition, there are certain things that an employer cannot do when it comes to emotional support animals. For example, they are not allowed to ask for documentation or proof of the disability that requires an ESA. They also cannot charge a pet deposit or extra fees for having the animal in the office.
Once you have taken all of these steps and made sure that your ESA is welcome in your office, it's time to enjoy the company of your furry friend!
Does an employer in California have to provide accommodations for an Emotional Support Animal?
If you're an employer in California, it's important to know that even though emotional support animals don't require training like service animals, they still need accommodations under the law.
It might be tempting to tell your employees to "Hakuna Matata" their ESAs, but please don't. It's illegal! The Fair Employment and Housing Act in California requires you to provide reasonable accommodations for employees with ESAs. So, if your employee's emotional support animal is more than just a 'pet rock,' make sure you're following the law and providing them with the appropriate accommodations. Don't be like Scar from The Lion King; it's not worth it!
Your employees will thank you, and so will the animals. Namaste!
Can I bring my ESA or PSA on an international flight out of California?
Are you itching to take your pup on an international vacation? Well, if you're flying out of California, the answer is a definite yes! ESAs and PSAs are allowed on flights originating from any airport in California.
But before you start packing their suitcase, there are a few things to keep in mind. In order to make sure your furry friend can come along, they need to have the appropriate documentation. You'll also want to check with the airline in advance so that you know their specific policies and requirements.
And don't forget, it's not all about them! Make sure you're fully prepared for an international flight by finding out what items you personally can and cannot bring with you.
If your pup passes the pre-flight check, then all that's left is to buckle up and enjoy the ride! Bon Voyage!
Can I bring my ESA on an in-state flight in California?
If you're planning to fly in California with your ESA, there's good news: the state has some of the most lenient laws for emotional support animals. Whether you have a furry pal or a feathered friend, you can bring them on an in-state flight without any worries!
Just be sure to look up the airline's specific policies about emotional support animals before you book your ticket. And don't forget to pack their favorite snacks, toys and blankets-- flying can be a stressful situation for both of you!
In the words of The Lion King's Simba: "Don't just fly, soar!" So if you're ready to hit the skies with your service dog in California, get ready to soar!
What are California ESA Public Access Laws?
Ah, California. The home of the stars, the surf and now—ESA pet laws? Yes, in California you can actually have a furry friend that's not just a dog or cat. Thanks to ESA (Emotional Support Animal) public access laws, you don't need to feel so limited when choosing your best animal pal.
So what does this mean for you? In a nutshell, if you have a legitimate need for an emotional support animal, the law is on your side. According to California ESA laws, you can take your furry (or scaly!) companion into public settings like restaurants, museums and stores. So now you don't have to be that person who shows up at the movies with a pet lizard!
The best part about California's public access laws is that it helps people who struggle with anxiety, depression and other mental health issues have the emotional support they need. Not only does an ESA provide love and companionship, but studies have shown that having one can actually reduce stress levels. So forget the hassle of having to leave your pet at home—get out there and explore with your emotional support animal!
What public places can I bring my emotional support animal in California?
In California, emotional support animals (ESAs) are allowed in most public places. However, it is important to note that ESAs are not considered service animals and may be subject to different regulations. Here is a bulleted list of the places you can bring your ESA in California:
Restaurants and stores
Hotels and other lodging accommodations
Public transportation, including planes, trains, buses and taxis
Parks, zoos and other outdoor recreational areas
Universities and colleges
Libraries and cultural institutions.
It is important to remember that while ESAs are allowed in all of these public places, some establishments may require proof of the animal's registration and/or certification. It is also important to ensure that your ESA behaves appropriately in these public places, as animal misconduct can lead to restrictions or even bans from certain locations.
In addition, it is important to note that some areas may be restricted due to health and safety regulations, such as zoos or areas with wild or dangerous animals. Always check the specific regulations regarding ESAs in a given area before bringing your animal into public places.
Can I bring my ESA to a hotel or restaurant in California?
It's a question many Californians have been asking themselves: "Can I bring my ESA to a hotel or restaurant?" The answer is yes, you can! Under California's emotional support animal (ESA) laws, it is legal for individuals with disabilities to bring their psychological service animals into public spaces such as hotels and restaurants. This means you can take your furry buddy to the movies, out for dinner, or even on a beach vacation! Just please remember to be respectful of other patrons by keeping your pet on their best behavior. After all, emotional support animals are not just cute companions – they provide invaluable emotional comfort and support for individuals with disabilities. So go ahead and enjoy your time with your four-legged friend – without worrying about the legalities!
But as always, it's important to stay informed. Make sure you research and understand all applicable laws before bringing your ESA into a public space. That way you can be sure you're following the rules and doing what's best for your pet. Plus, you'll have peace of mind that you and your ESA will be able to enjoy a fun and worry-free outing! So the next time you're considering bringing your emotional support animal somewhere in California, just remember – it is absolutely legal! With the right knowledge, planning and preparation, you and your ESA will be able to explore the Golden State together with ease.
Happy travels! 🐶🐱🐭⛰️✈️🚗🌊😃
Apply for an ESA Online in CA Today!
Service Pets makes it easy to get your pet certified as an emotional support animal or service dog. 
Simply fill out the form to schedule a consultation with one of our California state-licensed therapists!