Your Official New York ESA Letter Awaits
As a leading ESA authority in NY, we take pride in offering you the finest solution for granting approval for emotional support animals needed for housing, and psychiatric service animals required for travel. By providing you with an ESA letter, both you and your pet will be taken care of, enabling you to rest easy regardless of the situation. Don't wait any longer to acquire the vital support necessary to lead a joyous life with your furred companion. Trust us to pave the way, and experience the tranquility and harmony you desire.
Catie Hass
"Service Pets has been an absolute godsend! Their no-hassle approach to getting my furry pal the ESA letter we needed has saved my sanity, and honey, that is priceless. As someone dealing with anxiety, I wouldn't have made it this far without my little angel by my side. Thank you, Service Pets!"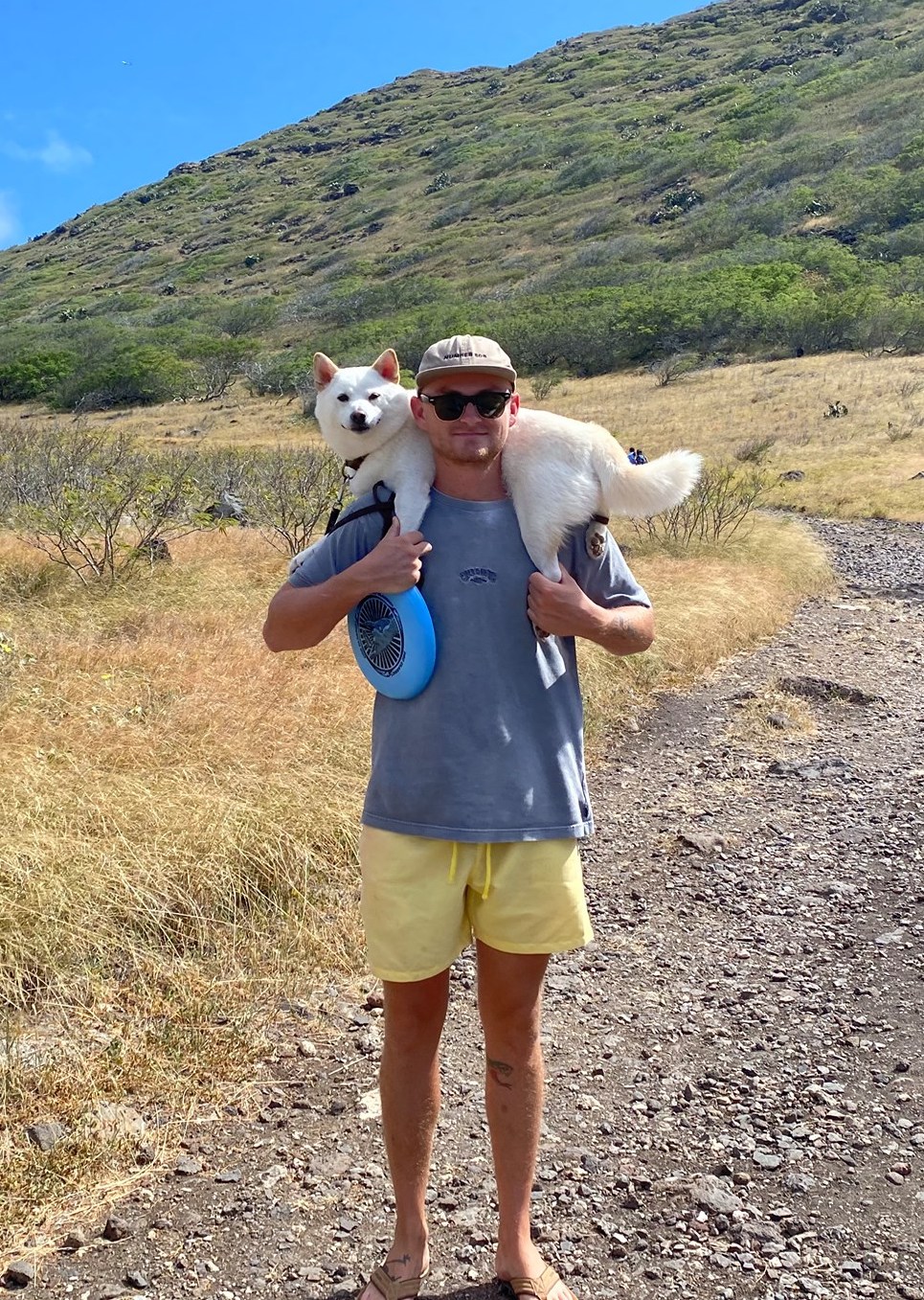 Ned Watkins
"Yo, Service Pets made a normally stressful and complicated process so freakin' easy. These guys were total pros - knowledgeable, kind, and totally supportive from start to finish. If you need an ESA letter for your four-legged friend, I can't recommend Service Pets enough. Thanks for making the process such a breeze!"
Patrik Kasey
"I was psyched to receive the thumbs up from a mental health professional and score that coveted ESA letter. No hoops to jump through and the Service Pets crew had my back. Downloading and printing the docs was a snap."
Act now to get your official ESA letter today!
Get Your Pet Certified as An Emotional Support Animal in New York
For those grappling with anxiety, depression, post-traumatic stress disorder (PTSD), or other mental health issues, an emotional support animal (ESA) can be a beacon of unconditional love and security. If you're in the Big Apple, having an ESA enables your furry friend to legally join you in areas where pets are traditionally banned, which is huge. It's official: this legal access changes lives. We get it – life is an emotional rollercoaster- and that's why we're enthusiastic about streamlining the ESA letter process. Obtaining an ESA letter might seem like a hassle, but it's worth the effort as it allows you to receive your pet's support in the most meaningful way possible.
3 Simple Steps to Getting a New York ESA Letter Online
It's easy to underestimate the power of furry animal companions, but for those of us struggling with mental health issues or disabilities, they can often make all the difference in the world. We make the process of obtaining an ESA letter for your pet simple. We understand the emotional bond between our clients and their pets and work to ensure that this bond is recognized, validated, and legally protected. The knowledge that you and your furry friend can be together no matter what is a powerful and emotional one, and we are committed to making this a reality for the people of New York.
Hey, New Yorkers! Quick quiz alert! You could get yourself an official ESA letter (yes, you read it right!) by taking this free questionnaire – just like that! 🤯If you tick all the boxes, cough up a negligible amount and one of our experts will review your answers. Can't beat this deal! 💸
Don't sweat it, babe. Our contracted mental health professionals are all about the head stuff, and they'll let you know if you're in. You'll be thrilled to learn that over 95% of people making the leap with us get the green light.
So you're waiting on an approval, huh? No worries, we've got you covered with an email that'll make you feel like the Fresh Prince of Bel-Air in no time. It'll take anywhere between a New York minute (good luck with that) and a full day. But once that's done, you can snag some instant downloads, printed copies, and even a training manual or service vest for your furry BFF. 
Get your ESA letter in New York in a jiffy with Service Pets! Cue endless snuggles with your furry companion while you unleash the benefits of owning an emotional support animal—not to mention all the possibilities of becoming the new celeb duo to make headlines! Emotional Support Animals are Changing Lives!
Having an emotional support animal can make a huge difference in your life. Not only do they provide unconditional love and companionship, but their presence can also have tangible benefits such as reducing stress and increasing socialization. Here are some facts and statistics to help you understand the impact that emotional support animals can have: New York's Frequently Asked Questions about ESAs
Who can write an ESA letter in New York?
Having an emotional service animal (ESA) can provide you with a special type of comfort and connection that's hard to come by in this bustling metropolis. But in order to take advantage of the many benefits ESAs offer, you'll need one very important thing: an ESA letter. In New York, getting your hands on an ESA letter is easier than you might think. There are plenty of professionals who can write an emotional service pet letter in New York, including licensed psychiatrists and mental health counselors. Just be sure to check their credentials before you book an appointment! And don't forget the other type of pet helper out there: your friendly neighborhood veterinary doctor! They too can provide ESA letters upon request. So if you want to get your ESA on in New York, don't worry - there's an expert for that! With a valid ESA letter in hand, you can make the most out of life in the Big Apple with your four-legged friend.
How do I get an ESA letter in New York?
Ever wanted an Emotional Support Animal to brighten your day? Give Service Pets a try- we get it! With our hassle-free online ESA letter process, getting your paws on one has never been easier. Take our free prequalification test now to begin the journey towards your furry fate!
How Much Does it Cost To Get an ESA Letter in New York?
Getting an ESA letter in New York can cost anywhere from $90 to $200. Depending on the provider, there may be additional fees for completing paperwork or other services related to getting the letter. The price of an emotional service pet letter also depends on whether you're getting a basic evaluation or more comprehensive services beyond that.
Generally, though, it's a relatively affordable way to get the emotional support you need. Plus, with an ESA letter in hand, you can enjoy all the benefits of having an emotional service pet - like free airplane rides and access to special housing accommodations - without breaking your budget. So what are you waiting for? Get that ESA letter and start living life on your own terms!
What's Included in a New York ESA Letter?
Who You Gonna Call (aka Licensed Mental Health Professional)? Make sure the letter is written and signed by one of these guys (like a social worker, psychologist, or psychiatrist).
The Scoop on License Info and Where to Catch Them: The mental health provider must spill deets on their license and tell us where they're at. We will personally respond to their profile on MSN.
The Purpose of the ESA Letter: We need an ESA letter to back us up and help tell our story. Let them know it's about staying safe and sane with your furry therapist.
Species Report: It's important that the letter specifies your emotional support animal type, name, and what makes them extra special.
Diagnostic Analysis: We need to know what mental health issues you're struggling with – don't hold back! Tell your provider to spill the tea on what's seriously going on and why the ESA is key for your recovery.
Use by Date: Our papers should have a shelf life, right? Let's make sure the letter shows how long it's good for before we hit the refresh button.
Professional Pizzazz: Add some sizzle to your fizzle and let us know how to contact your mental health provider. Extra points if they add a signature, too.
What Rules & Regulations in New York Does My Pet Need to Adhere To?
If you're a pet parent in New York, there are some rules and regulations you need to abide by. Don't worry though! We've got all the details on the laws that apply to your furry friends.
For starters, if you have an emotional support animal, there are some special provisions for them under the law. For example, the Fair Housing Act requires that landlords make reasonable accommodations for tenants with emotional support animals. This means they can't discriminate against them or charge extra fees for having your pet around.
Additionally, even if you don't have an ESA, many public places in New York must still allow access to service animals. You know what they say - all good doggos and puppers deserve equal rights!
Finally, it's important to note that regardless of the type of pet you have, there are some basic regulations for New Yorkers. You must get a license for any dogs or cats four months or older, and make sure their rabies vaccinations are up to date. These are just some of the rules and regulations you should be aware of if you have a pet in New York.
Now that you know the laws, it's time to get out there and show your pet a good time! After all, no one does hipster hangouts like NYC. Puppuccinos for everyone!
Is an ESA the same as a PSA?
**Nope! And it's not just a matter of different acronyms. Let us explain:**
An ESA, short for Emotional Support Animal, can be any type of animal, from a loyal dog to a cuddly kitten. Their main purpose is to offer emotional support to people with mental disabilities such as anxiety or depression. Think of them like your favorite comfort food, always there to help us cope with life's struggles. However, **they are NOT entitled to the same legal rights as PSAs**. They don't require formal training, and they are not permitted on all airlines or in public places.
So, what about PSAs? They are indeed furry superheroes, but unlike ESAs, they are trained to do specific tasks that help their owners with their mental disabilities. They can even save lives! Yes, you read that right. They can detect panic attacks, remind their owners to take their medication, or alert them when they are in distress. In short, **they are the Batman of the animal world, with wagging tails and furry capes**.
To sum it up, while ESAs offer emotional support, PSAs offer physical assistance. They both play important roles, but they are not interchangeable. And remember folks, please don't try to pass your hamster as an ESA. It won't work.
Where can I adopt an ESA in New York?
Are you a New Yorker looking for your newest family member? Then look no further! Adopting an Emotional Support Animal (ESA) could be the perfect match for you. There are many places in New York where you can adopt an ESA, and we've rounded up some of the best ones here. From shelters to rescue organizations, the resources available to you are endless. So whether you're looking for a canine companion or a feline friend, take some time to browse through our list of recommended establishments and find your perfect match. Happy adopting!
Is New York an ESA-Friendly State?
New York is a state that really knows how to treat its emotional support animals and their owners. From pet-friendly buildings in the city to dog parks on Long Island, New Yorkers know how to show unconditional love for their ESAs. Not only are there plenty of places around the state where you can bring your furry friend, but New Yorkers also understand the of emotional support animals and their role in helping people feel happier, calmer, and more at ease. Whether you're visiting NYC or living outside the city, you won't have to worry about finding ESA-friendly spaces throughout New York State. After all, 'furry' love should be shared by everyone!
Take the Bronx, for instance. The city is home to some of the best parks in the state, like Crotona Park and Pelham Bay Park. These parks are great places to take your ESA for a walk or let them run around off-leash (as long as you keep them under control). And if you're in Brooklyn, don't forget to check out Prospect Park. Not only is it a great place for ESAs, but its also known as the 'backyard' of NYC - you can take your pup for a leisurely stroll around the lake or challenge them with an exciting hike through its wooded trails!
New York understands that emotional support animals are more than just pets; they're integral parts of their owners' lives. That's why the state has made sure that there are plenty of ESA-friendly spaces around for those who need them. So if you have an emotional support animal and are looking for a place to show them some love, look no further than New York - your furry friend will be in good hands!
Do New York ESA Laws Differ From Any Other States?
When it comes to emotional support animals (ESAs), New York has some of the most unique and progressive laws in the country. While many states have similar rules, what makes New York stand out is its recognition of ESAs not only as therapeutic companions, but also as an integral part of the family.
For example, while other states may only recognize dogs and cats as ESAs, New York recognizes a wide range of animals - from reptiles to rodents. In addition, New York allows people to register their ESA online without having to present any medical documentation or obtain special certification.
Another significant difference between New York and other states is the fact that landlords in the state have to provide reasonable accommodation for tenants with ESAs. This means that landlords are required to make special arrangements, such as providing a designated area where the animal can go potty, or allowing the tenant to bring their ESA into areas where animals may not normally be allowed.
These laws show just how progressive and understanding New York is when it comes to ESAs and the valuable role they play in providing emotional support. With these laws, New York is helping people make sure their beloved animal companions are treated with respect and given the recognition they deserve.
It's clear that when it comes to New York ESA laws, there are some big differences from other states - including a greater level of recognition, a wider range of accepted animals, and stronger protections for tenants with ESAs. For anyone looking to bring an emotional support animal into their life, New York is the place to be!
Do New York ESA Laws Differ From City to City?
Some cities in New York have different laws and regulations regarding emotional support animals (ESA) than other cities. For example, in Albany, ESA's are not considered "pets" under the city's animal control ordinance, meaning that owners do not need to provide them with a license or pay pet fees.
In Buffalo, however, owners of ESA's must obtain a license from the city, and pay a licensing fee. Other cities in New York may have different laws for ESA's, so it is important to check with local authorities before bringing an emotional support animal into any particular area.
Additionally, some landlords may have different policies for tenants with ESA's, or even prohibit them altogether, so it is important to check with landlords before moving into a new home. Ultimately, the laws and regulations surrounding emotional support animals in New York can vary from city to city, so researching local laws and regulations is essential for any ESA owner.
In conclusion, understanding the Emotional Support Animal (ESA) laws in New York State can vary from city to city, and it is important for current and potential ESA owners to research local laws and in the city they live in are planning to move to., understanding landlord policies on support animals is also essential before moving into a new rental property. By knowing the laws that apply to their particular situation, ESA owners can ensure that their support animal is appropriately protected and has the rights it deserves.
How Do I Qualify For an ESA Letter in New York?
Are you an emotional support animal (ESA) lover in New York? If so, you've come to the right place. To qualify for an ESA letter in New York, you need to meet certain requirements. First off, you must have a disability that significantly impacts your life and requires the presence of an ESA for comfort or relief.
This can include emotional issues such as depression, anxiety, post-traumatic stress disorder (PTSD), or other mental health conditions. If you meet this criteria and have a valid diagnosis from a licensed physician or mental health professional, then you could be eligible for an ESA letter. Additionally, the letter must come from the same medical provider that diagnosed your condition.
In addition to meeting the requirements for an ESA letter, New also has other regulations you must follow. For instance, your ESA must be well-behaved and not pose a threat or nuisance to others. In some cases, landlords may require additional documentation such as proof of vaccinations or recent vet checkups in order to allow your ESA onto property.
Finally, you must ensure your ESA is properly registered in New York to recognized as an official emotional support. With all of these requirements, you'll be able travel and live with your ESA anywhere in the Empire State.
Can I have more than one ESA in New York?
Wondering if you can have multiple emotional support animals (ESAs) in New York? You're not alone! It's a common question, especially with the increasing popularity of ESAs.
Under New York law, you can own more than one ESA as long as they are all registered and meet the requirements set out by the state. This means that the animals should be clean, healthy and remain within the comfort of your own home.
That said, you may want to consider if having multiple ESAs is really necessary for your emotional wellbeing. After all, one well-behaved ESA can provide much needed companionship and emotional support! Whether it's a furry friend, a feathered friend or something scaly and slimy, having an ESA can help you cope with the everyday stresses of life.
Can a landlord in New York discriminate against an ESA owner?
As an ESA owner living in New York, you may be wondering if your landlord can discriminate against you. We hate to break it to you, but unfortunately the answer is yes. The reason? New York state and city law do not have specific laws that protect emotional support animals from discriminatory practices by landlords.
That means your landlord has the right to reject your ESA if they choose. So, take a cue from the many New Yorkers who have been in your shoes before and get creative to convince them that an emotional support animal won't be a nuisance! Whether it's providing references from previous landlords or working out a pet agreement, there are ways to ensure you and your four-legged friend can stay in your new home. Just remember, even if you're feeling the pressure to find a place ASAP, don't settle for anything less than what you deserve! Your ESA deserves it too. Good luck!
Can a landlord in New York ask for ESA certification?​
Yes, a landlord in New York can ask for ESA certification. According to the Emotional Service Pets Laws in New York, landlords may require tenants with ESAs to provide documentation that the animal meets certain criteria such as being spayed or neutered, vaccinated, and house-trained. Tenants must also be able to prove that their pet is an emotional service animal and not just a regular pet. So if you want to bring your furry friend along on the Big Apple adventure, make sure you have all the right paperwork! Why not start with Service Pets?
What if the landlord in New York has a "no-pet" policy?
You're a renter in New York and your landlord has a "no-pet" policy, don't worry! You can still move in with your emotional service pet. Under the ESA laws in New York, it is illegal for landlords to deny housing based on an individual's need for an emotional service animal. So if you have an ESA, you're in luck! With all of the hustle and bustle that is New York City, having your furry friend by your side can be a great stress reliever. Bring the pup along, and you'll always have someone to love on you while you take on The Big Apple!
Happy moving! 🐶🐱❤️
Can a landlord in New York charge a pet fee for Emotional Support Animals?
Yes - landlords in New York can charge a pet fee for Emotional Support Animals. So don't even think about trying to pull one over on your like Ross did with Marcel from Friends, 'cause it's against the law! Better brush up on those ESA laws if you've got an emotional support animal and want to live the Big Apple life.
Do I have to tell my landlord in New York that I have an ESA?
In New York, tenants with a valid ESA letter from their mental health professional are protected under the Fair Housing Act and can keep their pet without permission from their landlord.
However, it's always best to be honest - after all, honesty is the best policy! So if you're living in New York and have an emotional support animal (or even just considering getting one), it's best to let your landlord know right away. Don't worry, though - the law is on your side! Plus, you can always use some friendly pop culture references to break the ice, like "Hey there, I'm all about being honest so I wanted to tell you that I have an ESA...just like Ross had Marcel on Friends!"
Your landlord will probably appreciate you being honest and upfront. After all, that's a much better approach than them finding out about your ESA later - because the law is on your side, there won't be any issues either way! So stay honest and keep calm - you'll be just fine! 🙂
Can a landlord in New York restrict renting to an ESA owner based on breed and size?
If you live in New York and have an emotional support animal (ESA), you know the struggle is all too real. You did your research, filled out the paperwork, and are now ready to find a place to call home – but what happens when your landlord says they don't accept ESAs based on their size or breed? Can they make that call?
In New York, the answer is a resounding NO. Landlords are not allowed to put restrictions on ESAs based on size or breed. This means no matter how big, small, fluffy, or ferocious your ESA may be – you have the right to live with them in peace and harmony (just like we all hope for on the streets of New York). So if your landlord tries to give you a hard time, just remind them that it's against the law – and then keep looking for that perfect place to call home. Good luck!
Are there any exceptions to New York ESA housing laws?
Ah, the age-old conundrum: Are there any exceptions to New York ESA housing laws? We've all been there – living in NYC and wishing we could bring our furry (or perhaps not-so-furry) friends with us, but feeling like it's a lost cause due to all the legal hoops. Fear not! The good news is that there are some exceptions to the New York ESA housing laws.
First things first: landlords and property owners must allow tenants to keep emotional support animals in their residences, even if it goes against a "no pets" policy. That said, they can still deny certain types of animals if their breed or size poses a danger to the property or other tenants.
Additionally, landlords can also deny an ESA if there are reasonable accommodations available to address the individual's disability-related needs without needing an emotional support animal. That said, they must be willing to work with the tenant to find reasonable solutions – such as providing extra security measures or making modifications to the unit – before an ESA can be denied.
So if you're a renter in New York, rejoice! Your emotional support animal dreams may still come true after all. Just make sure your landlord is made aware of the ESA laws and is willing to work with you to find a reasonable solution that works for everyone involved.
Happy apartment hunting! 🏡 🐶 🐱 🦜 🐰 🦎
Can a college student in New York have an emotional support animal in on-campus housing?
As a college student, you already have enough on your plate. Schoolwork, extracurriculars, social life… after all, college isn't just about the grades! But for students in New York who are struggling with mental health issues and may need an emotional support animal (ESA) to stay afloat, navigating the rules and regulations of your college can be a tall order.
Fortunately, getting an ESA approved for on-campus housing doesn't have to be as complicated as Calc 3! We've rounded up some of the most helpful resources for students in New York who want to bring their furry companion with them when they start classes. So grab a pen and paper—it's time to ace this ESA 101 course!
The SUNY University at Buffalo provides an online resource guide with all the information you need to know about ESAs and how to get one approved for on-campus housing.
Cornell University offers a comprehensive website that explains their process for bringing an ESA onto campus. They also have a designated office that can provide students with more information and answer any questions they may have.
NYU's Student Health Center is a great resource for students looking to get their ESA approved. They offer support groups and individual counseling sessions, as well as an online guide to help you through the process of getting your ESA on campus.
Columbia University's disability services office provides comprehensive information about bringing an ESA onto campus. They also offer support and guidance for students who are looking for resources in the New York area.
Bringing an emotional support animal to college can be a great way to help manage mental health issues, but it is important to make sure you are following all the necessary regulations. With these helpful resources, you can be sure that you and your ESA will both be ready for a successful college experience!
Can I bring my ESA to my office in New York?
Bringing your emotional service animal (ESA) to the office can be a great way to have them by your side while you work — but it's important to make sure that all of the rules and regulations are followed. In New York, there are laws in place regarding ESAs, and they go beyond just saying if they're allowed or not.
For instance, the Fair Housing Act (FHA) states that landlords and housing providers must make reasonable accommodations to those living with a disability — which includes allowing them to have an emotional service animal. However, this exception does not apply for commercial offices or other places of employment — so if you're looking to bring your ESA into your workplace, you'll need to get permission from the landlord.
Furthermore, ESAs are not considered service animals under the Americans with Disabilities Act (ADA). This means that employers do not have to make any special accommodations for them in their office space.
When it comes to bringing your ESA into the office, make sure that you know the laws and regulations of New York State — as well as those of your employer. As long as all parties involved are aware and agree to the rules, then you should be able to have your ESA in the office with you. Just remember to keep them on their best behavior!
Does an employer in New York have to provide accommodations for an Emotional Support Animal?
Not necessarily. While employers in New York are legally obligated to provide reasonable accommodations for employees with medical needs, you ESA won't be welcome if you work at Burger King.
However, the employer must make reasonable changes to any policies or practices that may limit access for someone with an ESA. It's also important for employers to cater to other in the office who may have allergies, and if your ESA is out of control or puts someone in danger- they are definitely not welcome.
Can I bring my ESA or PSA on an international flight out of New York?
Travel by air with your emotional support animal (ESA) or psychiatric service (PSA) can be a bit of an adventure. If you're planning on flying out of New York, you may be wondering if you can bring your ESA or PSA along for the ride.
The answer is yes! It's important to keep in mind, however, that you must meet specific requirements and follow the rules for bringing an ESA or PSA on board flight. Make sure to check with your airline ahead of time to ensure that you have all the necessary paperwork and documentation required by the TSA. And don't forget: Pets are family too! So make sure you bring your furry friend along for the ride. Bon voyage!
Can I bring my ESA on an in-state flight in New York?
If you're planning a trip within New York, the good news is that you can bring your emotional support animal (ESA) along for the ride! It's important to note that airlines do require certain documentation and identification from passengers who want to bring their ESA on board.
Before booking your flight, make sure you check with your airline about what specific documents they need. After all, you don't want any surprises when it's time to board the plane! That being said, nothing will ruin your travel plans faster than leaving Fido home—so make sure you double-check those ESA requirements before taking off. Safe travels!
What are New Yorks' ESA Public Access Laws?
New York's ESA Public Access Laws are something to "howl" about! Emotional Support Animals (ESAs) in New York can look forward to some of the most comprehensive protections available in the U.S. With these laws, ESAs have access to public transportation and housing, as well as the peace of mind that their needs are taken into consideration. So if you're a New Yorker with an ESA, you can rest easy knowing that the state of New York has your back!
The laws also prohibit discrimination against people with disabilities who use ESAs for assistance or emotional support - meaning businesses must allow them access to their facilities, regardless of breed or size. The laws also allow for the reasonable accommodation of ESAs in housing and transportation - including airlines, buses, and trains. So if you have an ESA companion with you on your travels, you can take comfort in knowing that New York's laws are looking out for both of you!
All in all, these laws help to ensure that ESAs across New York are supported and respected - and that's something to celebrate! So let's take a moment to thank our lawmakers for championing the rights of ESAs in the state. After all, your furry friends deserve it!
Many Thanks,
New York ESA Supporters Everywhere! 🐕🐈❤️
What public places can I bring my emotional support animal in New York?
Do you have an emotional support animal (ESA) in New York City and can't seem to find places that will accommodate them? You're not alone! As no-pets policies are a common sight in the Big Apple, it can be overwhelming trying to figure out which public places allow ESAs.
Don't worry! We're here to help. Here are some of the places you and your ESA can visit together:
Restaurants: Many restaurants in New York will allow ESAs in their establishments, as long as they don't cause a disturbance.
Airports: Most airports welcome ESAs to accompany their owners on their travels.
Hotels: ESAs are welcome in most hotels, as long as prior arrangements have been made and the ESA is not disruptive.
Shopping Malls: Many malls across NYC allow emotional support animals, but it's important to check with individual stores to ensure they accommodate them.
Public Transportation: Trains and busses in NYC are generally pet-friendly; however, it's best to check the individual rules of each service.
Parks: New York City is home to many parks, some of which allow ESAs as long as they are on a leash and well behaved.
So don't fret if you and your ESA are looking for fun things to do in the city - there are plenty of places in The Big Apple that will welcome you with open arms.
Can I bring my ESA to a hotel or restaurant in New York?
If you're planning a trip to New York City, it's important to know if your emotional support animal (ESA) can join you. The good news is that ESAs are welcome in most hotels and restaurants in the Big Apple!
According to the Department of Health and Mental Hygiene, all licensed businesses in NYC must allow customers accompanied by service and emotional support animals to enter the premises. So, if you're looking for a place to stay or a bite to eat with your ESA in tow, you won't have to worry about being turned away! Just remember that all animals must be leashed and well-behaved, so bring your best furry friend along and enjoy the sights of NYC!
The only caveat is that if you do plan to bring your ESA with you to a restaurant, it must be visible and accompanied by its owner at all times. This means no sending Fido off on his own while you grab a table—you two are in this together! All of that being said, we can confidently say that your ESA is welcome in New York City. So, go ahead and plan that trip—your four-legged companion will thank you for it!
Service Pets makes it easy to get your pet certified as an emotional support animal. 
Simply fill out the form to schedule a consultation with one of our NY state-licensed therapists!