Your Virginia ESA Letter Awaits
We're the leading solution in Virginia for approving emotional support animals for housing and psychiatric service animals for travel. We're here to provide you and your pet peace of mind in any situation. Don't wait any longer to get the support you need to live a happier life with your furry companion.
Happy Virginia ESA Owners
Lily Carrigan
"Grateful to Service Pets for the easy and seamless method of getting an ESA letter for my furry companion. My anxiety was debilitating, and Service Pets helped me immensely."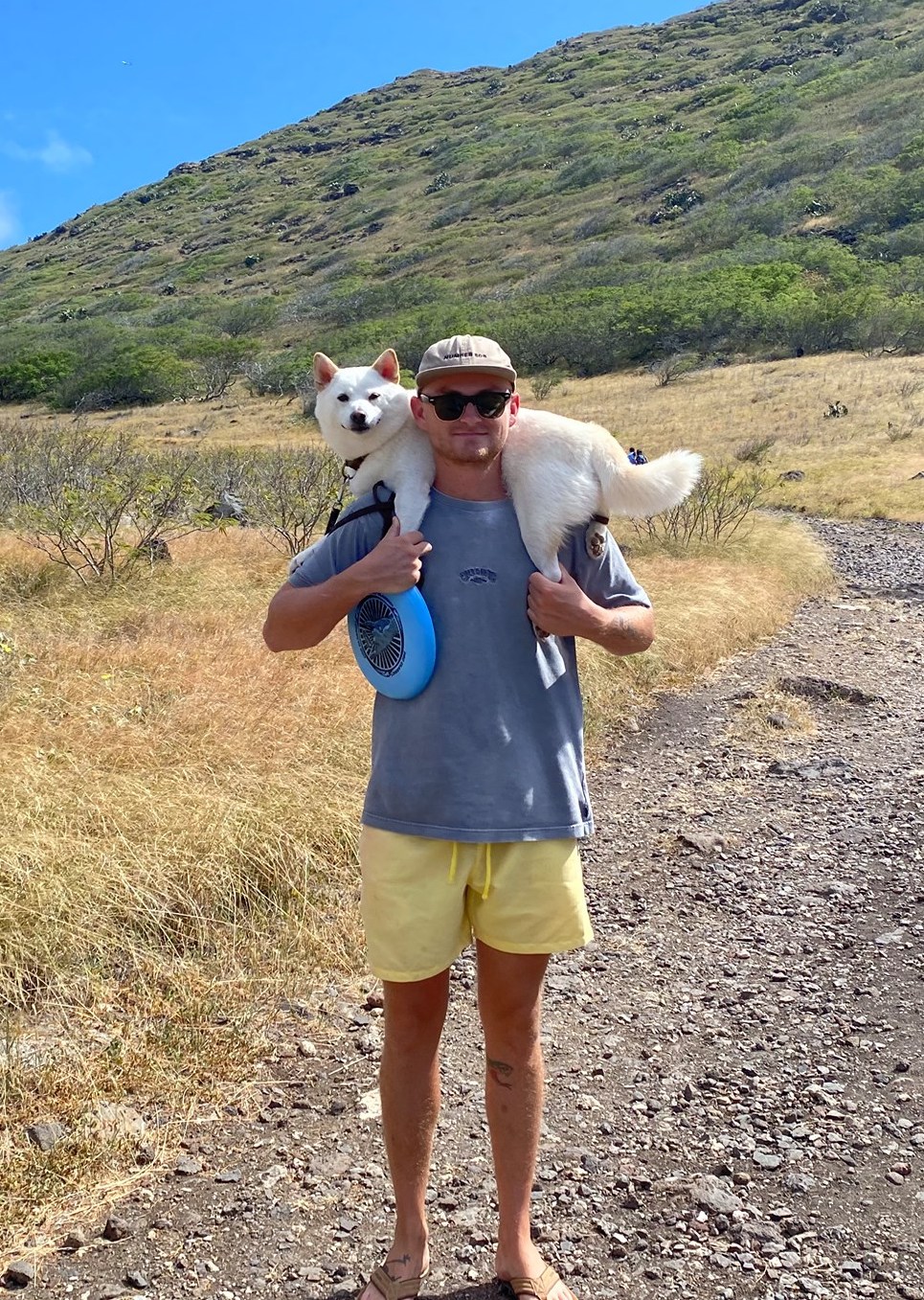 Carl Scott
"Their professionalism, knowledge, and kindness are unparalleled, making them an excellent option for anyone seeking an ESA letter for their furry friend. Thank you again, Service Pets, for making this process so easy and stress-free!"
Eric Cummings
"With ease, I underwent an evaluation and consultation with a therapist, which qualified me for an ESA letter. Service Pets' team provided hassle-free assistance, allowing convenient download and prints after being approved!"
Act now to get your official ESA letter today!
How To Get an Emotional Support Animal in Virginia
Those grappling with anxiety, depression, post-traumatic stress disorder, or other mental health concerns can rely on the support and unconditional love an emotional support animal can provide. In Virginia, an ESA letter enables pets to accompany their owners into typically pet-free areas, giving new purpose and allowing people to change their lives dramatically. At times, we all experience emotional ups and downs, but we're committed to creating a hassle-free process for obtaining your ESA letter. By doing so, you can receive their pets' support in an impactful way.
Get a Virginia ESA Letter Online in 3 Simple Steps
Furry animal companions have an incredible and often underestimated power that can transform people's lives, especially those of us struggling with disabilities or mental health issues. Obtaining an ESA letter for your pet shouldn't be an emotional rollercoaster, and we strive to make it an effortless, stress-free process. We understand the unique bond between our clients and their pets and work diligently to ensure this bond is recognized, validated, and legally protected. We're dedicated to turning your dream of staying with your furry friend into reality.
Relax and take a few moments to complete our quick, complimentary questionnaire to determine  if you're qualified.  Trust Virginia's experts to review and create the official ESA letter. 
Don't worry! Our contracted doctors are mental and emotional health specialists and will determine if you're qualified. By the way, over 95% of folks who come to us for help get the nod. 
The universe shall synchronize,  and your approval will be sent via electronic mail – which usually takes one with sixty minutes to manifest. From there, the possibilities are endless.
Service Pets makes the process of getting your Virginia ESA Letter seamless. Let's do this together! The Astounding Benefits of ESAs
Do you feel like you need a furry friend to help keep your emotional health in check? Emotional Support Animals (ESAs) may be just what the doctor ordered! ESAs are animals that provide comfort and emotional support for individuals suffering from anxiety, depression, or other mental illnesses. Not only do they bring joy and companionship into the lives of their owners, but research has also shown that there are numerous benefits to having an ESA. Frequently Asked Questions about ESAs in Virginia
Who can write an ESA letter in Virginia?
Who write an ESA letter in Virginia? If you want to get a furry friend to provide emotional support, the only ones qualified to do so are licensed healthcare professionals in the Commonwealth. This includes doctors, psychiatrists, psychologists, and clinical social workers. In other words: no one but your fave medical doc or therapist can make it happen! So, if you're in Virginia and thinking about getting an emotional support animal, don't forget to get your ESA letter from the right person. Otherwise, Fido will be stuck on the sidelines for far too long!
How do I get an ESA letter in Virginia?
Check it. We have a  convenient online booking process that makes it quick and easy to get your ESA letter from experienced mental health experts. Yup, here at Service Pets, we've thought of everything. So, go ahead and take our free prequalification test now. Let's get this journey started together.
How Much Does it Cost To Get an ESA Letter in Virginia?
It costs around $150 to get an ESA letter in Virginia. The cost covers the evaluation fee, consultation fee, and administrative fee. It's a small price to pay for all the love and companionship that comes with having an emotional support animal! Think of it as investing in your own mental wellbeing - like buying yourself a ticket to a Beyoncé concert, but with much better ROI. Plus, it's a win-win for everyone - your furry pal gets to hang out with you all day, and you get the emotional support you need to live life to the fullest! So what are you waiting for? Get yourself an ESA letter in Virginia today!
What's Included in a Virginia ESA Letter?
Alright, let's break this down like you just asked for a Virginia ESA Letter.
First: a licensed mental health professional's gotta sign it!
Number Two: they also need to give you all their license information and where they work.
Number Three: The letter's gotta say it's specifically for Emotional Support Animals and why you need one.
Number Four: Don't forget to say which type of pet you have and give a quick description of your furry friend.
Number Five: The letter also has to note your mental health condition is severe and that having an emotional support animal is a crucial part of your treatment.
Lastly, it must have the date it was written, how long it's valid for, and the professional's contact information and signature. Woof!
What Rules & Regulations in Virginia Does My Pet Need to Adhere To?
Hey Virginia pet owners,
Are you looking to make sure your furry family members are up-to-date on all the rules and regulations in your state? No sweat! We've got you covered. Here's a quick overview of the ESA laws in Virginia that your pet should follow:
All legally owned pets in Virginia must have a valid license tag.
Emotional Support Animals (ESAs) are not considered service animals and therefore are subject to the same laws as regular pets, including leash laws and pet waste regulations.
If your ESA is on public property, it is required to be on a leash at all times.
ESAs must also be vaccinated for rabies and licensed in the city or county where the owner resides.
ESAs are not permitted inside restaurants, grocery stores, bars or places that serve food.
If you're traveling with your ESA on public transportation, it must always stay in a pet carrier and obey all other applicable laws.
Follow these rules and regulations, and you'll be sure to keep your furry friend happy (and legal!) in Virginia.
Is an ESA the same as a PSA?
An ESA (emotional support animal) and a PSA (psychiatric service animal) may look like the same furry creatures, but they are not.
PSAs are specially-trained to help individuals with mental/ physical  illness perform certain essential tasks. They can provide reminders to take medication or alert family members when needed.
ESAs, on the other hand, provide emotional support, companionship, and unconditional love. They don't require any specialized training or certification. Think of it this way: if a PSA is like Iron Man, then an ESA is more like the Hulk — loyal, supportive and ready to help when you need it most. So if you've been wondering "Is an ESA the same as a PSA?" the answer is no, but that doesn't mean they don't both have an important role to play in providing emotional support for people with mental health issues.
To break it down, your ESAs will cuddle with you and provide unconditional love when you're feeling down, like the furry therapist you always wanted. Conversely, PSAs will fight the bad guys and save the day, like a furry superhero that helps people with mental disabilities. 
Where can I adopt an ESA in Virginia?
In the state of Virginia, there are several places to adopt an Emotional Support Animal (ESA). Here are some options:
Richmond SPCA: Located in Richmond, VA, this organization is dedicated to finding forever homes for homeless and abandoned animals. The Richmond SPCA offers a variety of ESA adoption services for individuals in need. 
Pet Lovers United Together as One (UTO): This organization is a 501(c)(3) nonprofit in Fairfax Station, VA that works to rescue and find homes for animals in need. They offer ESA adoption services and have several ESA pets up for adoption. 
Charlottesville-Albemarle SPCA: Located in Charlottesville, VA is the CASPCA, which offers animal adoptions, spay/neuter programs, education and advocacy. They have an extensive selection of ESA's available for adoption and always have pets in need of a loving home. 
Animal Welfare League of Arlington: This animal rescue organization is dedicated to helping homeless animals find forever homes in the Virginia area. They offer adoption services for ESA's and have an extensive list of furry friends that are looking for a home.
Adopting an ESA is a big decision, so make sure to research all of your options before choosing the best one for you.
Is Virginia an ESA-Friendly State?
"Is Virginia an ESA-Friendly State?" The answer is a Most Def! Not only is it an ESA-friendly state, but it's also one of the most pet-friendly states in the entire US. With plenty of individual cities and counties making their own ordinances when it comes to pet ownership, it's easy for those with emotional service animals to find a place that welcomes them and their furry companion.
That means no more sad moments of being turned away from your favorite restaurant because you have an ESA! In Virginia, you'll be able to bring your ESA with you as long as they're trained and certified by a professional handler. So don your red, white, and blue, grab a leash, and spread the good news: Virginia is ESA-friendly!
If you're looking for more information on how to make sure your emotional service animal is in compliance with local ordinances, just do a quick search online or contact your county or city government. After all, Virginia is a state that loves its pets!
Do Virginia ESA Laws Differ From Any Other States?
Yes, Virginia ESA laws do differ from other states. For starters, the Commonwealth of Virginia requires all ESAs to be licensed and registered with the state. This is an important distinction compared to other states that don't have such a requirement.
Also, Virginia has taken things one step further by allowing certain types of animals as ESAs that are not allowed in other states. This includes the ever-popular 'pocket pet' such as sugar gliders and hedgehogs, which have become something of a pop culture phenomenon.
In addition, Virginia is one of the few states to recognize emotional support ferrets as ESAs. While this may seem like an odd choice, ferrets are actually highly intelligent animals and make great companions.
Finally, Virginia is unique in that it allows certain exotic animals to be registered as ESAs. This includes small reptiles such as lizards, turtles, and snakes. However, these animals must meet a strict set of criteria before they can qualify for ESA status.
Do Virginia ESA Laws Differ From City to City?
When it comes to emotional support animals (ESAs) in Virginia, the laws may differ from city to city. But what does that mean for the people living in each of those cities? Well, you might be surprised at just how different things can get.
Take, for example, Richmond – one of the most populous cities in Virginia. Here, the law states that landlords can charge a pet-related fee but are required to waive these fees for ESAs. On the other hand, in Roanoke – another large city in Virginia – landlords can choose not to allow pets at all in their rental properties. In this case, an ESA may be granted access if the landlord is willing to accommodate them.
The differences don't stop there. In Norfolk, a landlord can charge an additional deposit for ESAs – but only if they already have a pet fee in place for other animals. Meanwhile in Blacksburg, the laws are much more relaxed and landlords do not need to make any special accommodations for ESAs at all.
As you can see, Virginia's ESA laws vary from city to city – so it pays to know the specific regulations of each one before making any decisions. That way, you'll be sure to stay on the right side of the law and make sure your ESA is properly protected!
How Do I Qualify For an ESA Letter in Virginia?
Do you live in Virginia and need an emotional support animal (ESA)? You've come to the right place! In order to qualify for an ESA letter in Virginia, you must have a documented mental health condition as diagnosed by a licensed mental health professional. This person must also be able to provide evidence that your disability is causing significant functional limitations in major life activities.
The emotional support animal must be necessary to your mental well-being and provide therapeutic benefit to you. With all these requirements in mind, it's clear why an ESA letter is so essential if you want to have an ESA in Virginia! So don't wait any longer—start the process of getting your very own furry (or scaly!) companion today!
Can I have more than one ESA in Virginia?
Are you wondering if you can have more than one emotional support animal (ESA) in Virginia? The short answer is yes!
You may have multiple ESAs, but there are some limitations. If your landlord or housing authority has rules that specify the number of animals allowed, those must be followed. Additionally, each ESA must meet certain criteria to be considered valid. If you're looking to have more than one ESA, make sure each animal fits the bill before getting a second - or third! And if you need help determining what makes an ESA valid, there are resources available for that as well.
So don't worry - having multiple ESAs in Virginia is totally doable! Just make sure you do your research and stay within the rules. With that in mind, get ready to have a furry (or feathered or scaly) friend by your side!
Can a landlord in Virginia discriminate against an ESA owner?
No, Virginia (or any other state) isn't the place to discriminate against an ESA owner. When it comes to matters concerning emotional support animals in Virginia, landlords must comply with both federal and state laws.
Under the Fair Housing Act of 1988, for example, landlords are prohibited from refusing tenancy to a person based solely on their need for an ESA. That means that landlords in Virginia must make reasonable accommodations for tenants with ESAs, even if the property has a "no pets" policy.
So don't let anyone bully you out of living with your ESA—your rights are protected! And remember: an emotional support animal is always welcome in Virginia. 🐶🐱
Can a landlord in Virginia ask for ESA certification?​
Well, well, if you live in Virginia and are looking to rent a place, you better brush up on your knowledge!
That's right - landlords in Virginia may ask for ESA certification. In other words, they have the right to determine whether or not your ESA is really providing 'emotional support', so it's important to make sure your pup has all the right paperwork. So, don't forget: if you're looking for a place in Virginia, your furry friend better be certified! After all, who wants a landlord to give them the side-eye? Not us – we'd rather keep our four-legged pals around!
What if the landlord in Virginia has a "no-pet" policy?
If you're wondering if you can move into a Virginia rental with your emotional support animal (ESA) even if the landlord has a "no-pet" policy, the short answer is yes!
As long as your ESA meets the criteria of an ESA and you have the proper documentation from a mental health professional, landlords in Virginia are required to make reasonable accommodations for you and your ESA.
But just because Virginia landlords have to make those accommodations, doesn't mean they are not allowed to set certain rules such as no pet deposits or providing written authorization from a mental health professional. So if you're an aspiring landlord looking for tenants in The Commonwealth of Virginia, remember: don't mess with a person's ESA. It's against the paw! 🐾
Can a landlord in Virginia charge a pet fee for Emotional Support Animals?
If you're a tenant in Virginia with an emotional support animal and your landlord is asking for pet fees, you can say "The Force isn't with you!"
That's because there are specific laws in place that prohibit landlords from charging tenants additional pet fees – including pet deposits, pet rent and other charges – if the animal qualifies as an emotional support animal. So if Fido or Fluffy are there to provide you with emotional comfort and stability, those pet fees can stay far, far away! Just make sure you have the necessary documentation from a mental health professional attesting to your need for an emotional support animal in order to protect yourself from any potential legal disputes.
Do I have to tell my landlord in Virginia that I have an ESA?
Yes, if you have an ESA in Virginia, it's best to be up front with your landlord! Sure, you might think it's easier to keep quiet and hope they never find out, but that could land you in hot water.
Federal law makes it illegal for landlords to refuse reasonable requests for accommodations for people with disabilities — and having an emotional support animal is one of those accommodations. So, if you want to keep your furry friend with you in Virginia, make sure to speak up to your landlord about it! After all, an ounce of prevention is worth a pound of cure when it comes to living with an ESA.
Can a landlord in Virginia restrict renting to an ESA owner based on breed and size?
Heck no! In the state of Virginia, landlords cannot deny renters based on breed or size when it comes to their Emotional Support Animal (ESA). According to the Fair Housing Act, people with disabilities are entitled to an ESA at any rental property.
So if you're an animal lover living inVirginia and your landlord is giving you a hard time about your pet, it's time to break out the law books and set them straight! Remember, when it comes to ESAs in Virginia, size and breed don't matter. It's all about love! 🐶💗✨ So if you're an ESA owner living in Virginia, never
Are there any exceptions to Virginia ESA housing laws?
If a landlord has a 'no pets' policy, they can't reject an ESA outright.
Landlords can deny an ESA if the specific animal poses a threat to themselves, other tenants, or their property.
Landlords cannot deny your ESA just because they're not a fan of cats/dogs/etc. or just because of breed restrictions.
Landlords cannot charge extra fees for ESAs, but they can require you to pay a pet deposit and sign an ESA agreement providing that all reasonable house rules are followed (like no barking or chewing).
Landlords cannot restrict where in the property the ESA can be kept, as long as it is in a safe and secure environment.
Landlords cannot require any specific type or size of animal; the key here is that the animal needs to be necessary to provide emotional support.
Last but not least, landlords can't deny ESAs just because they don't believe that animals can provide emotional support – science disagrees! 😉
So there you have it, all the exceptions to Virginia ESA housing laws. And remember, if you ever need an extra dose of furry love and cuddles, your ESA is here for you. <3
Can a college student in Virginia have an emotional support animal in on-campus housing?
Are you a college student in Virginia struggling with mental health issues? Do you think having an emotional support animal near could help? Let me fill you in on the deets!
All colleges in Virginia are required by law to allow emotional support animals in all on-campus housing. That means, yes - you can definitely have your furry friend join you on campus! Before you get too excited, there are a few things you need to know. For starters, emotional support animals must be registered with the college and their presence must be approved by the school's disability office.
Luckily, colleges all across Virginia have great resources in place to help students navigate the process of registering the animal and obtaining approval. From the University of Virginia to VCU, there are plenty of options for getting help. Here's a few local college resources that can provide assistance:
Having an emotional support animal can be a source of comfort and stability during your college years. Take advantage of the resources available to you in Virginia and make sure you have all the necessary paperwork ready before bringing your furry friend on campus! Good luck
Can I bring my ESA to my office in Virginia?
If you're a Virginia resident, you may be wondering if you can bring your emotional support animal (ESA) to work with you. Good news: the answer is yes!
In fact, according to the Americans with Disabilities Act, employers must provide reasonable accommodations for people who require assistance from an ESA in order to perform their job duties. So whether you're a cubicle dweller or office executive, your four-legged friend can join you in the workplace. Of course, there are some guidelines to follow—so make sure to brush up on those before bringing Fido (or Fluffy) into the mix. After all, it's never 'ruff' to be prepared!
Does an employer in Virginia have to provide accommodations for an Emotional Support Animal?
An employer in Virginia may be asked to provide reasonable accommodations for an employee's Emotional Support Animal. But just like the 'Game of Thrones' finale, sometimes it can be a bit confusing. The Americans with Disabilities Act (ADA) states that employers can't discriminate against people with disabilities and must provide reasonable accommodations for their needs. This may include providing an ESA to help with the symptoms of anxiety, depression, PTSD and other conditions recognized by a doctor or mental health professional.
But note that employers are not required to provide accommodations for Emotional Support Animals if it causes considerable disruption in the workplace. So make sure you know what you're getting yourself into - don't be fooled by a cute puppy into taking on something you cant handle!
Can I bring my ESA or PSA on an international flight out of Virginia?
If you're a Virginian planning an international flight with your ESA PSA, the answer is yes! Depending on the airline and destination country, there may be some restrictions, but in general service animals are allowed to accompany their owners on flights. And don't worry—you won't have to pay for Fido's ticket, though he may need to be in a kennel for takeoff and landing. So go ahead, pack your pet's bags – with you as the guide, you'll be taking the world by storm!
Now if only those long TSA lines went away…but that's another story. Bon voyage!
Can I bring my ESA on an in-state flight in Virginia?
If you're flying within the great state of Virginia, your emotional support animal can come too! As as they're certified and meet all relevant laws, there's no reason why your ESA can't take a seat right next to you on your in-state flight.
While some airlines may require advance notice or paperwork for an ESA on board, it's generally a much simpler process than flying out of state. So don't be afraid to bring your furry friend along for the ride - just make sure their carrier is well-stocked with toys and treats!
Who said you have to wait until summer vacation to take an adventure? With your ESA by your side, in-state flights have never been more fun. So buckle up and get ready for takeoff - the sky's the limit!
What are Virginia's' ESA Public Access Laws?
If you're a Virginian wildlife enthusiast, then you've probably heard about the state's ESA Public Access Laws. These laws are designed to ensure access to public areas for recreational activities like hunting, fishing and trapping on lands where endangered species live or may potentially live. In other words: they make sure that while we coexist with these creatures, we don't overstep our bounds. But did you know that these laws also apply to emotional support animals (ESAs)?
That's right: Virginia's ESA Public Access Laws protect ESAs in the same way they do wild creatures. Here's a handy bulleted list of what you need to know about the state's regulations:
ESAs must be registered in the state of Virginia.
Owners must obtain a certificate from their doctor, mental health professional, or other licensed healthcare practitioner in order to receive an ESA registration.
All public places must allow access to ESAs unless they pose a direct threat to safety or health.
Landlords must allow reasonable accommodation for ESAs in rental agreements.
ESA owners are required to follow all state and local laws, including leash laws and spaying/neutering ordinances.
The owner is responsible for the behavior of their ESA at all times.
Virginia's ESA Public Access Laws are just one of many ways that the state is working to ensure that all its residents, furry and otherwise, can live peacefully and safely together. Now go forth and spread the word!
What public places can I bring my emotional support animal in Virginia?
If you live in Virginia, you know that the area is full of great people and places. But what do you do when your furry friends need to come along? Don't worry, there are plenty of public places in Virginia where emotional support animals (ESAs) are welcome! Here's a list:
Restaurants: Most restaurants in Virginia are happy to let you bring your ESA along for a bite.
Movie Theaters: Take your pup for a night out at the movies – most theaters in Virginia allow ESAs inside, provided they stay seated with their owners during the show.
Shopping Centers: From Richmond to Norfolk, most shopping centers are ESA-friendly. Many even have special pet-friendly areas just for your pup.
Parks and Recreation Areas: From beach days to hikes in the mountains, many parks and recreation areas in Virginia allow ESAs, so you can bring your four-legged pal along for an adventure!
Hotels: Make sure to book ahead – most hotels in Virginia are happy to accommodate emotional support animals, so you can take your pup on vacation with you.
No matter where you and your ESA roam in Virginia, be sure to follow the local regulations and always clean up after your furry friend! Have fun exploring all that Virginia has to offer with your ESA by your side.
Can I bring my ESA to a hotel or restaurant in Virginia?
Are you one of those people who wants to take their emotional support animal everywhere? We are too! Whether it's the beach, a restaurant or even a in Virginia - hey, we it! But before you lace up your pup's sneakers and head out on that road trip, there are some things to consider.
In Virginia, ESA owners must follow the rules and regulations set out in the Americans with Disabilities Act (ADA). This means that you can bring your ESA to certain establishments, such as hotels and restaurants, provided that they meet certain criteria. For example, the establishment must be open to the public and not require an additional fee or deposit for bringing an animal. Also, they cannot be in a space that's otherwise restricted, such as the kitchen or bathroom.
So don't worry - you can still take your ESA to all kinds of places in Virginia as long as you follow the ADA regulations! Have fun and make sure to enjoy all the great sights along the way. Who knows, maybe Fido will find a pup-friendly restaurant to share a bite with you.
Now that's what we call living the good life!
Apply for an ESA Online Today!
Service Pets makes it easy to get your pet certified as an emotional support animal. 
Simply fill out the form to schedule a consultation with one of our Virginia state-licensed therapists!